expiry date???.....do u keep an eye on it?.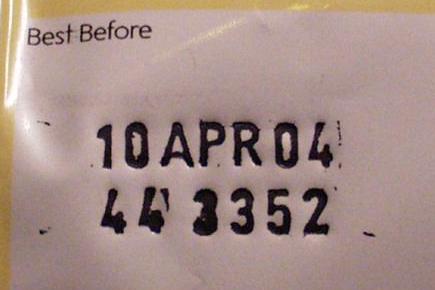 India
January 21, 2009 10:22pm CST
the things that we buy most often comes with an expiry date,have you ever been curious enuf to check the date of expiry or you still wonder abt the importance of it....it is advisable to be aware of barring date of wat you buy,best case is the medicines which are best utilised in so & so time duration.....hw often while getting your things from the shop you go in for the expiry date?...
3 responses

• Philippines
22 Jan 09
Hi twinklee! Oh I really do look at all those expiry dates everytime I shop in the grocery or the supermarket. We just have to be aware and conscious those barring dates since we will be able to know if the food is still fit for consumption or might cause food poisoning. It is best that we should be aware of these things. Take care and have a great day! lovelots..faith210

• United States
22 Jan 09
I use to didn't look at the expiration date until one day I tried to give my husband something that was expired. He later seen the expiration date and noticed that it had passed. He wasn't very happy when he fount out since then I do not feed my family anything that is expired. Plus I heard a comedian do a skit on expiration dates he said its an expiration date not a suggested date.

• Philippines
22 Jan 09
foods should be take in great consideration since we can get so sick by eating or taking an expired food like can goods, condiments, junk foods and almost everything. people should be very aware of the food they buy at their local grocery store, should they buy it or not, i mean, should it be bought right away and be stocked up in the drawers and just waiting for the right time to use it. if that's the case then probably buy it when you really ought to buy it.

• India
22 Jan 09
[b]Ya friend! that is true, recently our city was flooded, at that time, many stocked up things got spoiled there by increasing the cost and there was great demand. It is the best to buy products as and when required.. but why people stock things is because of the "Fluctuation in price" .. ! thanks for responding...! take care

[/b]