Have you ever tried to become a professional cricketer?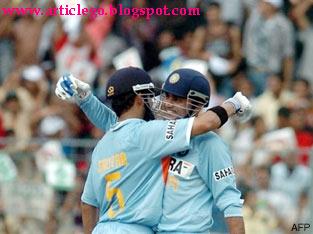 India
4 responses

• India
23 Jan 09

Actually no.. was never interested in cricket.. i feel its too lengthy a game and my interest fades out immediately... besides i am a gal and there r not many cricket opportunites for gals..


• India
23 Jan 09
DOnt SAY that YOu know i tried so hard that now i am tired of cricket

• India
24 Jan 09
I have dreamed hard & long enough that i am a successful professional cricketer.

, but have never tried it hard enough. I was a 2 down batsman & a spin bowler in school team. spin bowlers get a real thrashing on matting wickets and that was the end of my cricketing carrer. it only remained a hobby after school days. Todat things are slowly changing & there is money even for domestic cricketers. In my days people used cricket only to an admission into good universities through sports quota.

• India
23 Jan 09
May I tell you one thing - cricket is a religion here in India. And SACHIN RAMESH TENDULKAR is our GOD. Before this there was hockey which India dominated at the Olympics 28 straight years. India never ever lost a gold in hockey in Olympics. But after the loss of the gold medal to a nation - which I would not like to name, hockey almost lost out to cricket. Now its cricket, cricket and only cricket in India. Such is the fever of being a professional cricketer that, there are a lot of heartbreaks. See, the career of cricketers in Australia - the international career I mean - starts mostly after 25. There are some, who never get a chance. The same is here in India. I for one too tried and was in my school team and I suppose I played well. But the best 11 of the nation is too a difficult thing. If one loses out the othere is just waiting in the wings. So, now better be a fan.

• India
23 Jan 09
If I had tried and succeeded will I come here? I tried to become a soccer player. But I understood that training from an early age and good physique are the criteria for getting in there. But I think that an early training and physique are not so needed for cricket. What you need in all these games is perseverance and skill. I have dreamed of becomming a cricket player but never tried.