Do you like Pizza??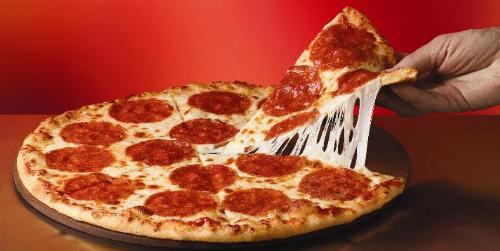 Philippines
January 23, 2009 2:27am CST
I like pizza very much, but i dont like pizza with too many toppings. How about you, do you like pizza?, what is your favorate toppings, when did you first eaten a pizza? and where?

.. Note: This is a discussion started by my 11 year old daughter.
5 responses

• Netherlands
7 Feb 09
Hello there Long! Long time no see na man...

well, back to the topic.. yes, I do like pizza very much. I like pizza with spinach and white cheese toppings, with anchovies or black olives and not to forget the Hawaain pizza of our beloved Greenwich but my favorite is with tuna toppings

Happy mylotting Long! I'll popup here from time to time. I am busy with my daily life.. busy as a bee

God Bless! ~May

• Philippines
13 Feb 09
Hi May glad to see your here again. Honestly I don't understand or can't recognize or imagine those kinds of pizzas that you mentioned haha (ignorant

). This is again one of my daughters posts...

• Netherlands
13 Feb 09
hahahaha.. anyway, that is all Italian pizza that I once had in Italy. There are also some available in my country but the Italian pizza is the best..

Thank you for the BR

!

• India
23 Jan 09
Oh!! Thats great!!!What is her name??? She is really smart. I love pizza too.Cheese pizza and chicken pizza are my favorite. Happy mylotting!

• Philippines
23 Jan 09
My daughter's name is Honey, she is now in her 6th grade and will be high school in a few months. Thanks for the reply.

• Philippines
23 Jan 09
I like pizza a lot specially the Yellow Cab's meat lovers and the New York's Finest of Yellow Cab. I love eating pizza as well as my wife and my son. We all love pizza. There are times that we sit near the kitchen so that my son can see how Yellow Cab make their pizzas. He likes watching it while eating pizza.

• Philippines
23 Jan 09
Oh I haven't tasted that yet, perhaps if I'll get the chance to visit America, who knows? soon...