Do you have this habit to bring snacks with you when you're gonna watch a movie?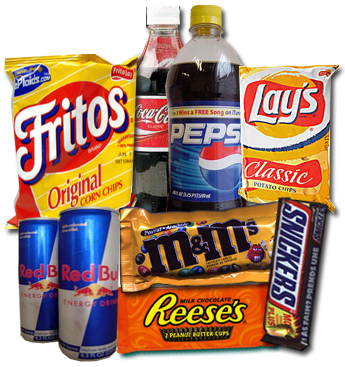 France
8 responses

• Malaysia
7 Feb 09
Hello Cannonball, I do the same too - be it at home or at the cinema. If I am watching at home, I even prepare drink and food so that I can eat in front of the TV and don't waste my time looking for drink/food when I feel that I need it!

• France
8 Feb 09
These moments are good ones to me!

• United States
28 Jan 09
yeah, when i'm watching a movie i like to have something to snack on while it's play. i don't watch movies often but i like to eat when i do. lol I don't always eat when i watch a movie though because then i feel fat afterwords sometimes from just sitting there and eating lol it's good sometimes but not all the time.



• Philippines
29 Jan 09
Im usually quiet and still whenever I watch a movie especially when Im that engrossed in it.hehehe When I go to the theaters I can manage not having any snacks but since Im usually out with friends then we do buy something. But when Im only watching from our tv even if the movie is rented from a shop or something I just sit back, relax, and enjoy. I just pause and get up, go to the kitchen to get something to eat. When I hit play I eat slowly, again, depending upon the nature of the movie and how interested I am in it.


• United States
27 Jan 09
I don't eat when watching movies. If at home, I like to have something to drink, like tea or coffee. Sometime water. When I a in movie theater, I don't buy anything to eat or drink.

• Philippines
25 Jan 09
When i watch in the movie theater... then i always make a point to buy snack that i can eat inside... like popcorn... a burger... drinks... and even candy... but when i am at home... i just look for something that is available to eat... if there is none... then i will just make myself a cold drink...

• Canada
24 Jan 09
I just eat when I want to eat that is all, I cannot bring snakes outside so I don't really do it then either.