Do you like frogs?

United States
7 responses

• United States
9 Nov 06
no i dont like frogs at all


• United States
2 Mar 07
I don't like real frogs either but I do loved stuffed animals that are frogs..I guess it's because when I was little my brothers and sisters nick named me "toad" .. Toads and frogs are kind of the same??

• United States
19 Feb 07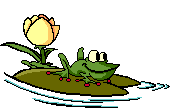 Really what is the big deal about frog pee. Its not like it cause warts or anything of that nature. Frogs are cute and cuddly. The help maintain our fly population and make a cool croaking noise. Frogs are fascinating because as you reach for them, they jump away. Here is one of my many clip art pictures showing how cute frogs can be.