Be Patient When Cutting A Two Year Old's Hair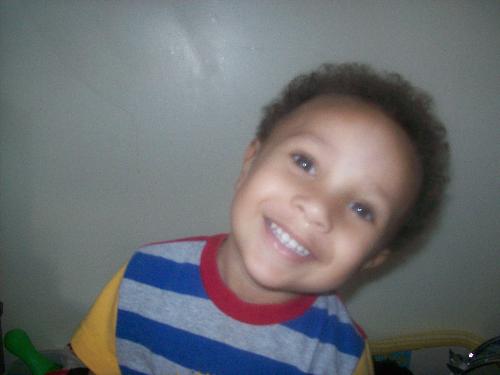 United States
January 24, 2009 1:37pm CST
Today I took my son to get a haircut. I don't normally have to get him a haircut too often. In fact, I think this was only his 3rd hair cut in his whole 2 years of age. I think the beautician did an okay job on his haircut, but I think she didn't have much patience when it came to cutting a child's hair. She kept complaining because he wouldn't keep his head still and one time said, "See there, I almost cut myself". I was really starting to get a little aggravated at her. He was sitting there being still in the chair, which if you know, for a 2 year old is EXCELLENT! But if he just turned his head the slighted she had a cow. I was even trying to have him look at himself in the mirror so he wouldn't move his head. I know it is hard to cut a baby's hair, but I just think as a beautician she should realize that it might take her a little longer and just take her time and be patient. Maybe it was just me. Are your beauticians patient when they cut your children's hair?
3 responses

•
24 Jan 09
I can honestly say my hairdresser is brilliant with the kids. I took my little girl there to have her put up for a dance performance. She has very fine shoulder length hair. And lots of odd wispy bits. The hairdresser put it in two french plaits either side of her head for me. She was so patient with her. Much more so than I could ever be!

It sounds like yours didnt want to do your sons hair in the first place. In which case she should have just said!

• United States
24 Jan 09
When mine were little I'd always asked for the stylist who could work well with a moving target. You're more likely to get someone who can handle little kids that way. Never failed for me.

• United States
24 Jan 09
I have two little boys and when they were really really young I couldn't control them either. I used to cut their hair,it used to grow so fast! I tried everything:Putting a movie for them, giving them a toy, etc. There's a really nice salon near where I live, they got these car shaped seats,kids love it!