Art Warming !! Do You Find it Too ??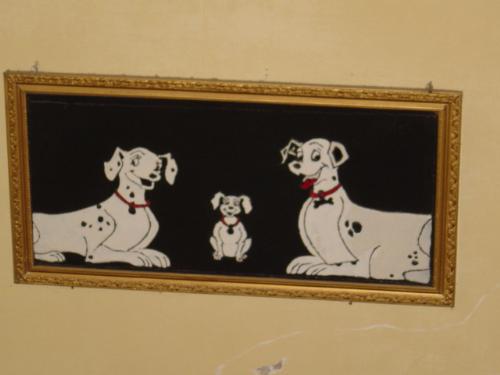 India
January 24, 2009 2:15pm CST
"A thing of beauty is a joy forever." We all agree. Well mostly. Many members are so creative here. Do you often engage yourself in creating something artistic as a past time? Do you find creating a work of art heart warming? For me, even if the result is not so excellent, yet I feel a great surge of happiness as if I have achieved a great thing. I am not a good painter but when I painted a cheerful Dalmation family on dark glass and got it framed, I felt so happy that I couldn't resist displaying it here. You can see it in the picture below. My current avtar is a floating flower and candle decoration with golden glitters which I made as part of the decoration theme on my parents' latest wedding anniversary. A few tiny white petals were disturbed and the flower candle blown out by two of the cute naughty kids present on the occasion. lol Would you like to share any of your little little achievements too. Arty or otherwise.

4 responses

• India
25 Jan 09
'A thing of beauty is a joy forever' anytime! I have thrived on Keats' poems and this i think is eternally true. Before going into detail I must tell you that the artist in you should never die and you must not ever compromise with the gift you are born with. Both the avatar and the Dalmatian pic you shared are amazing artwork! I really appreciate. I used to be into craftswork as a child. Being a very inwardly person, I have always found paintings and craftsmanship to speak for me. I majored in all competition in school days. But sadly, my pre occupation with other things in life when in college made me abandon it. Having said this, recently, i am finding enormous expression to that side together with my nieces. Last summer when the kids visited our place we made some wonderful crafts out of microwaved CDs, It was great fun, I tell you.


• India
25 Jan 09
I guessed so mimpi. People who are shy are so sensitive that they perceive even the subtle things which go unnoticed to others. You sound like an ideal woman.... Womanhood personified!! I grew up listening constantly that a woman not just expresses herself through speech, but through various other finer ways. Must I tell you how privileged I feel to know people like you who are artists and yet so much of a 'karmayogi'. A rare and precious combination. I used to feel sad earlier seeing great unsung gifted people having to leave pursuing the beautiful power of art and resort to practical ways of living due to more urgent demands of life. But now I understand that it is the artist in a karmayogi that deserves to be revered and not feel sad about. The beauty within such people is immortal. So I smile and say- Hello mimpi, I am glad and so proud to be your friend.


• India
25 Jan 09
Hey you golgappi! Little girl talking like a woman - a perfect karmayogi. Love you dear and i am not much of an artist. I love it and do it in my own sake. Anything that gives you pleasure should be pursued irrespective of your talent at it or not. That's how I feel. And dear, you are the sweetest and just made my day. Love you. Looking forward to articles in AC. Keep writing and keep the artist in you active. Awaiting your next article on your artwork.


• India
25 Jan 09
My eyes are wet and throat choked. The reason I don't know and so feel like a fool. lol. Its just that I greatly value gifted people and feel they are a bunch superior. Ooooops, I know I have been lagging behind on AC.



• United States
26 Jan 09
Hi daffodil! I love the Dalmation family! They are just beautifully done and adorable to look at! Want to make me one for my living room wall? I sometimes think that I am not really good at crafts and then all of a sudden I come up with something that surprises even me! I had an old small wooden jewelry box that had some pasted picture on it that was worn out and I decided to re-do it. I totally changed it! I painted it blue and put some wooden colored butterflys on it and it came out looking brand new! I do little things like that sometimes and it makes such a big difference! that had some

• India
26 Jan 09
Hi Opal! Thanks. Yes, Opal, with pleasure! Only the cost of shipping is going to be whopping amount. Had it been on a piece of paper or cloth, then I could have just rolled and packed it for you. But glass......alas! lol. Anyway, it looks better in the photo than it really is. A creative mind there Opal! Transforming the old jewellery box into a beautiful work of art is worth genuine appreciation. These little things, as might seem, are in reality a big source of happiness and reflection of a lovely mind's imagination. Thanks for sharing such a lovely achievement.




• India
25 Jan 09
I hope you again find time to turn creative. Thanks stephcjh for sharing.


• United States
24 Jan 09
I absolutely love creating art, and have been creating mixed media art pieces for years. I used to sell it, but not anymore (no time to create in comparison to before). I have some of it hanging on my walls, and I have plans to create much more in the coming year. I wish I had the time I used to for art. I miss it being part of my regular daily routine. We're a family of seven now, so I barely have time to work on things that aren't work, house or family related. LOL

• India
25 Jan 09
Wow explorations!! You sound like a thorough artist. You are so talented and experienced in art. I'm sure youre artistic inclinations will pull you towards creating them as soon as possible. Good Luck. Nice meeting an artist that you are.