what age do you think is right for marrisge?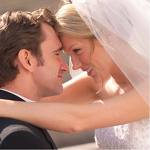 Nigeria
January 24, 2009 5:20pm CST
i'm 23years old, hoping to get married soon. but some of my friends who are even older than i am, keeps telling me i'm too young to get married. some say marriage is like a prison, u loose ur freedom and all that. do u think 23 is too young to be married?
10 responses


• India
25 Jan 09
I think 25-26 years are good age to get married where for guys its around 27 as at that particular time both are well settled and enough mature to live their lives.. before that it will be too early as most of the time will be spent in enjoyment only and after age of 30 it will be problematical during your children's higher study and all as you may not be well at the age of 58-60 and at that time your children about to complete graduation and all.

• United States
25 Jan 09
I think that is something that only you can decide. The institute of marriage might be different in Nigeria, but marriage should not necessarily mean a loss of freedom on your part. You should marry someone who values you and respects you and will let you be your own person within the marriage rather than just an object that they "own". I think that some people are too young to get married at 23, but that others aren't. The point is that you shouldn't listen to the advice of others on topics like this. It's something that you have to decide for yourself. I got married at 19 and so many people told me not to do it. They told me I was too young and that I would ruin my life. We have now been together for 8 years, we are very happy, and we have a beautiful 5-year-old boy. I'm happy with my decision, which I fully felt in my gut was the right thing to do for myself. You have decide whether the man that you think about marrying will make you happy and if you are personally ready for marriage. There's no harm in waiting, but if you feel like you are ready you should go for it. Only you can know what's best for you.

• Philippines
25 Jan 09
I think that if you think marriage makes you lose your freedom and if you were married when you said that then you're not very happy with the commitment you got into (of course I don't really mean "you"). I think that 23 is a reasonable age to get married - if you're in love and you actually have an ongoing serious relationship that is going to that direction. But I don't want to be a hypocrite so let me talk about "me". I'm 21 and seriously, I don't have a clear picture of when I'm going to get married although I am in a committed and loving relationship. I think that 2 years from now, I still wouldn't be financially capable to support myself in a comfortable lifestyle. I guess that's where the "losing your freedom" comes in. People may feel restricted in life when they're tied down to obligations and there are a lot of obligations in a married life : like a partner and children, the bills, the tuition fees, the time... Thanks for the response on my discussion!

• Philippines
25 Jan 09
I think age doesn't matter as long as you have your confident in facing the responsibilties of being a married person, you did everything with you, you are fixed and matured with your decisions in life.And of course if you think you will be more happy when you have a partner in life caring for you and ready to sacrifice for the goodness for the both of you.

• Philippines
24 Jan 09
Hi Nina! I am 25 and I have a baby but I am not yet married. Nobody really can decide for you. Some people marry at a very young age but still manage to be together. As for me I'm happy with my baby so I'll just settle for this at this point.. lol... I do hope you'd be able to make a decision and be happy with it.

Good luck.


• United States
24 Jan 09
nobody can decide for us whether or not we are too young or old to get married....I didnt get married until I was 32..nothingn wrong with that...I know ppl who were married when they were as young as 16..others who got married when they were in their 20s...There really isnt a set age that is suitable for everyone...it various from person to person.

•
21 Feb 09
no i don't think any age is too young to get married. if you love the person and you want to spend the rest of your life with them then go for it. however if you have doubts in your mind, it;'s better to leave it and stay with that person to resolve those doubts.

• United States
29 Jan 09
I was married at 19 and it lasted 5 and a half years. I don't think there is any right age to marry as long as you know you are with the right person. Matter of factly, marriage does lessen your freedom compaired to when you were single and that is important to remember.