How Much Your Highest Payout Here in myLot?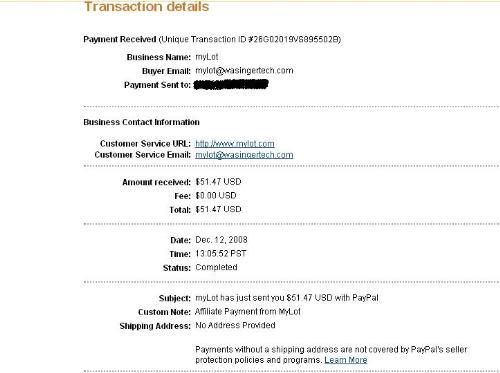 Davao, Philippines
January 25, 2009 2:22am CST
I forget to share my highest payout here last month. Maybe many of you my myLot friends knew my goal was to reached the maximum payout that would be $100 but i am failed to reached my goal within 4 months because i was inactive because of my other program. What i did i lowered my payout last November 2008 so that i will received my payout on December. I got $51.47 last month and that was my highest payout here in myLot.
6 responses

• Philippines
25 Jan 09
so far i only earn the smallest minimum payout... so far it is the biggest payout i made so far in my online ventures.

• Davao, Philippines
25 Jan 09
yeah, i remember when i am newbie to this venture, $10 was so big for me but time passed when i experience $50, i think i am aware of looking sites that will give me that amount. That is why i try Autosurf and I earn more but later on you will also scam by them. For those people can't afford to lose their funds better not try autosurf and hyip.

• India
25 Jan 09
hi carini, thanks for responding on this discussion. hey friend, i am also like you. i have earning the small money over this website.its difficult for me to reach this payout in many months. i try to make this out in this month happy mylotting


• India
25 Jan 09
i am new here in mylot and upto now i wrote 200 answers only and i got 1.72$ upto now and i have doubt that how can i get 10$ monthly. but u told in last month u have earned 51$ and i have big doubt that how u earned in one month. is that amount earned in one month? i yesterday decided to answer daily 33 posts which will become 1000 posts monthly . then only i can get atleast 10$ here monthly . but because of house work i can give only 15-20 answers only here daily . so it is not sufficient for me to get 10$ monthly for me. will u wrote answers to 1000 posts and more than that ? pls tell how many answers will u write monthly. and for anwering how many questions u have got 51$. other than answering posts ,what will u do here to get more money monthly.will u post photos and referrals .with that also u are earning? hope u will earn from all that sources i think .then only u have got 51$ i think . i am also eagerly waiting to get my first payout. may be it is not possible this month i think .


• Philippines
25 Jan 09
I haven't reached that amount but If I would just focus writing and responding topics and discussions I think I can reach more than what was the highest payout you've got here..[hopefully]..

• United States
25 Jan 09
I'm not sure what my highest payout was from Mylot. I have been here for two years, almost three now. I think the most I ever made her in one month, was around $40.00 or so. That was when they paid alot better though. I have never made that much in a long time. I can do work here and never ear a dollar per day now.

• Davao, Philippines
25 Jan 09
i know you are veterans here. I am very happy even sometimes i am inactive here but time when i post my new discussions i always found your name. Thanks for being my here and support me anytime. How much you total paid by myLot? if you don't mind!

• Ipswich, England
25 Jan 09
Hello there July. I have set myself a higher limit (of 25$) myself, after getting 2 payments of about 12-13 dollars from mylot, and i think i will reach it soon enough as i have about 16$ now. Congratulations on your 50+ $ payment and i think the 100$ limit can be reached in 1 year (or even faster) but you really have to be into it.

• Davao, Philippines
25 Jan 09
if you have more referrals you can make it in a month but like me work here alone before that's $51 it took me 2.5 months to reached. I think if i never found another site before i get the maximum payout in 3 months or to be exact 4 months.

• India
27 Jan 09
actually i am new here so i have earned here only $1 here till now but i am thinking a lot on how can i earn here lot of money i will be very happy if i will be earning lot of buxs of here in mylot. i love being a rich with lot of hard work and one day will come when i will be playing with money like any thing. here i am enjoying a lot with my friends and lot of discussion lets see how far we will go ahead.