Birds ignore my suet but the squirrel loves it!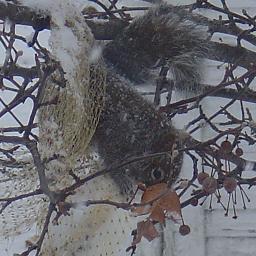 United States
January 25, 2009 11:16am CST
Look at the picture I've included! Last week I told you about my furry visitor, he lives at the top of the tree outside my window. Now that the leaves are gone, I can see his nest. Today he came down when it began to snow and headed straight for the suet that I made. You can see how much he likes it! The birds aren't eating the suet this year, they loved it last year. I haven't changed the recipe. Lard, corn meal, raisins, cranberries, nuts and corn flakes all go into it. I think I will put out a little bowl of it for him so he won't have to struggle with the net bag and possible tear it. I'm quite fond of the little furbaby!
3 responses

• Bangladesh
31 Jan 09
Birds can findout their food from any long distance because they can fly easily so they take which they like most.But squirrel can't do that they have to take what they get with their reach.

• United States
31 Jan 09
I put out an ear of corn for him the other day and he seems to like that, too. He's very beautiful, I'm lucky to have him there to entertain me during the long days.

• Canada
25 Jan 09
I bet he'd love a bowl of peanuts in the shell even better! when i lived in ontario we had these big black ugly squirrels i hated them. but here in NS we have those cute kind that you've captured in your picture.. We have a suet out front for the birds in a cage thing.. so far no squirely visitors here.

• United States
25 Jan 09
Peanuts are a great idea! If he drops them, the dogs won't eat them. They think the suet smells good and if any were to drop they would gobble it up!


• United States
25 Jan 09
How cute, it's nice of you to feed the little guy.


• United States
25 Jan 09
Now that I know what he likes, I'll make sure he has some. I really like that little guy, he's very personable!