eating under the table!!!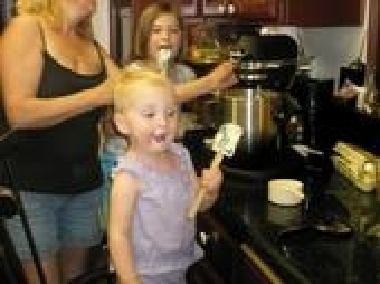 South Korea
January 25, 2009 1:46pm CST
last night im very busy cooking korean pancakes for the coming lunar newyear..as i was busy im not aware what is happening around me..but i was a bit suprised why the pancakes are too getting smaller,then suddenly i heard the sound under the table..OMG.. my toddler is eating under the table..she cried when she saw me as if she was scared that i will angry with her..but honestly..looking at her makes me laugh..did someone at your home likes to eat your food when you are still cooking?plz share..have a nice day!!
6 responses

• United States
28 Jan 09
My 9 year old son is that way when I am cooking bacon. I swear the boy eats it as fast as I get it on the plate when I am cooking it. Pancakes are the same way. You can never sit down and eat bacon and pancakes with the boy because by the time I am done cooking them he is stuffed.

• Philippines
26 Jan 09
Wow your toddler is very cute in doing this. hiding under the table just to eat the pancakes that you are cooking. I think she really loves what you have cooked. I never had an experience that people tends to eat a lot of what I cook as I am cooking it, it usually happens after the cooking is done. But i remember that there are times that when someone is cooking i like to taste bits of it but i don't think my mom finds it cute. LOL.

• United States
26 Jan 09
H[i]i marketing, hahahha..that is very cute! LOL! I remember that also when I was single and every time I will cook something like pancake or tempura and even in the middle of finishing all the pack, some members of the family can't wait and they will love to eat and eat, it's also fun and makes me also eat while cooking! LOL![/i]




• South Korea
26 Jan 09
oh..yes my friend eating while cooking is great ..have a nice day

•
25 Jan 09
Hi Marketing, Oh that is so funn, it is a shame you couldn't have taken a piccture of her eating them under the table bless. Oh if I am cooking pancakes the inute they are out of the pan my girls have grabbed them but anything else they will wait for. Huggles. Ellie :D

• South Korea
26 Jan 09
i think kids..love to eat while the mother still cooking..my son was also did the same thing but he will ask permission first.have a nice day.

• United States
25 Jan 09
LOL! That was so funny! Yes, I've had people eatfrom my food before I finish all the way. It makes me feel proud of what I'm doing!

• South Korea
26 Jan 09
oh..yes ist a sign that your food is delicious..have a nice day

• Canada
25 Jan 09
Yes, Oh yes! Mom was baking bread, and taking loaves out of the oven, and placing them on the kitchen Table to cool. My lil sis and I were playing under the table, and the fresh bread smelled so good. We made a lil hole in the end of one loaf when mom wasn't looking, and began to eat. Soon we were reaching into the loaf to get a handful. Then mom caught on, and she let on she was upset, but she was laughing so hard she couldn't get angry.

• South Korea
26 Jan 09
i think mothers can always understand their kids..have a nice day