The world is a-bloom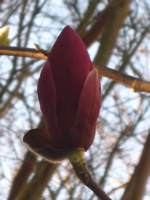 United States
January 26, 2009 3:38pm CST
A busy schedule got in the way of my wanting to share this picture I took more than a week ago. I was typing along in Boyfriend's computer room when I decided to open the window blind to let the sun in. And what I saw got me so excited and giggly, I took my camera outside and started taking pictures of what else made me very happy and excited. I have been so preoccupied that in the umpteen times I have gone through Boyfriend's front door, I have failed to notice that he has a Japanese magnolia just a few feet away.
7 responses

• India
3 Feb 09
And your boy friend had not told you either! It's just because you would get jealous of his new found love!


It's indeed Japanese beauty! And look at the color! Bright, enriching, pure and enticing! Noway you can come out of its charm!


• United States
3 Feb 09
It has more blossoms now than ever. I can actually see the tree outside the window while myLotting. I don't even know if Boyfriend knew he had one. I think when he moved in, it just looked like a scraggly tree (winter and all) but now it's spring (Is it already?) and like my title said, the world is a-bloom. How are you doing, mimpi? I hope you're doing fine.


• United States
3 Feb 09
I am glad you get to see this one then even on a picture, CJay. I wonder what plants you could grow over there. Thanks for the comment and I am glad to see you around. Take care!

• United States
27 Jan 09
[i]Hi Anne, This is very pretty. Thanks for sharing! I wish we have that also around, it is depressing this time here, trees are sad looking! Enjoy![/i]



• United States
30 Jan 09
Anne Frank was once quoted "Think of all the beauty left around you and be happy." It does not feel like California winter in these parts right now. It feels like summery spring which is good although it looks like we are going to have to ration water for a while if this keeps up.


• United States
27 Jan 09
Yup, riyasam, we just have to open the "blind(er)s". We should always be aware of the dreary things but not to the point that they blind us from seeing the beauty around too.


• United States
27 Jan 09
Well, now you have in a picture. I did not care if I looked crazy taking pictures out there but I love this shot a lot if I should say so. Thanks, alokn.


• United States
27 Jan 09
I have not really smelled magnolias... but I love looking at them. Although not as much when they fall into the ground. Spring is coming for you, glords... I hope soon.

• United States
27 Jan 09
Hi anne! That is quite a beautiful picture! It is nice to know that there are actually places in the world that still have such beauty and life going on at this time of year! I am truly quite jealous! It will be months before I will get to see anything in bloom again or birds or even the little critters that usually run around here! It is just too cold for anything to survive here right now! So thank you for sharing such a beautiful part of nature! It gives me hope that once again even though months away I too will see those beautiful sites again!

• United States
27 Jan 09
I am sure once those months arrive, you will be seeing one beautiful sight after the other. For my part, since I am not one who's surrounded by snow, I am much more appreciative of its beauty but maybe if I deal with it every single day for months, then I might go Bah Snow! as well. Thanks, Opal. Stay warm as always.