Another picture of ice storm...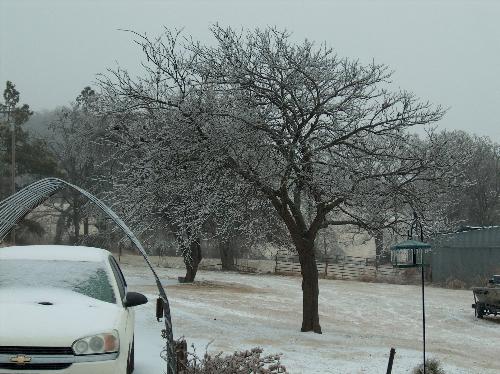 United States
January 27, 2009 1:57pm CST
Here is another picture of the ice storm we are having right now, its very cold here today. Its covered everything, and very slick and dangerous to even walk out your door, so I'm staying put today..lol. Have you ever been in a ice storm? If so, how long did it last and what did you do?
5 responses


• United States
28 Jan 09
Yes, and it sure makes traveling hard, I stay home..lol. Thanks..

• United States
28 Jan 09
Oh my!!! I am very fortunate to live in a place where this type ow weather does not normally occur. We even seldom hav snow in our place and I like it. Well, I love snow but I don't like the cold much more the ice storm. I have never into an ice storm and I don't want to experience one. Hope everything is fine with you there.


• United States
28 Jan 09
We're fine here thank you, just trying to keep warm, and keep the fire going in the fireplace, its supposed to get really cold again this evening. Well I'm glad that you don't live where you have this type of weather, I myself would like to live in a warmer climate, but my husband loves the cold weather, and I don't think I could get him to move..haha. Thanks.

• Philippines
27 Jan 09
Thanks my friend for posting interesting photo such as that. My! It must really be so called in there. Whewww! I've never known what ice storm really is not until you showed this photo! Here in our country, it's the flood of water that devastates us and leaving lots of destruction. It's seems no country is exempted from the wrath of mother nature!

• United States
28 Jan 09
No, I don't think anybody is exempted from the wrath of Mother Nature, we also get tornadoes here during the Spring, and they can be very devastating as well. Yes, its really cold right now, which means the ice won't be melting for awhile...Thanks

• United States
27 Jan 09
We had a really bad ice storm one morning when I lived up north, it was during the month of October. I got up and took a shower real quick because I knew the power wasn't going to be on long. All of the transformers were exploding one by one. It looked like fireworks up and down the streets. A huge tree limb fell and blocked my drive. Luckily my neighbor let us cut through his yard. I hope all goes well for you and you are able to stay warm. Good day!

• United States
27 Jan 09
That was bad, I bet that was a sight, to see all the transformers blowing up all down the street. Yeah, I know what its like when your out of power and you can't take a shower, last year, I was able to go to my brother in laws and take one..haha. Thanks for your response..Have a good day

• United States
27 Jan 09
We had a bad ice storm here in Feb. 2007. It was very bad and the power was out in some areas for a week. Right now we have snow which is very beautiful actually. It is is first real snow we have had this winter and I am really liking it. It makes everything look so pretty. Fortunately I do not have to drive in it so I'm fine.

• United States
27 Jan 09
Actually we had two ice storms, one in Dec. of 2007, then again in Jan. of 2008. It was bad too, we were out for a week, I think I burned every candle I had in the house..lol. I hope it doesn't get that bad this year, as the electric company has gone and trimmed all the trees during the summer, so the branches wouldn't fall on the power lines. I think it does make everything pretty, even the ice does, I wished I could put on here the sight I see whenever I look out my windows, its so pretty..Thanks