Can you imagine it without her?

United States
January 28, 2009 11:27am CST
Lara Croft Reboots Without Angelina! Warner Bros. has confirmed plans to relaunch—and completely overhaul—the hot pants-wearing, artifact-collecting Lara Croft: Tomb Raider franchise, with the first major casualty being Jolie. That is almost like cereal without the milk! http://news.yahoo.com/s/eonline/20090128/en_celeb_eo/81145;_ylt=Ap.toMI.4NzKEp6qophpke9xFb8C
5 responses

• United States
23 Feb 09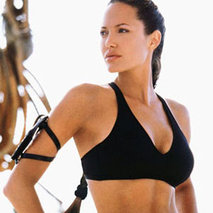 Wow, I won't know what to think cause when I think Tomb Raider I think Angelina Jolie. She does have a few kids now but that shouldn't mean anything she still has a rocking body even after twins. I do hope that it takes off the ground though because I would enjoy seeing another one even if it will be different like the link says. I guess they are going to shake things up...

• United States
30 Jan 09
I would like to say, "It's just an actress and just a role. I'm sure they can get someone good." However, I must admit I saw the Mummy III and felt it really missed out on something because they had to replace Evie.


• United States
28 Jan 09
Angelina did a good job as Lara Croft, but I'm really not surprised. In fact, I have suspected something like this ever since I saw Tina Majorino's work as Deb in Napoleon Dynamite. I realize that the rumor mill is saying that Megan Fox is being considered for the new Lara Croft, but I suspect that it is really Tina Majorino, and they don't want to spoil the surprise. The only other contender that I could see for the part besides Tina Majorino is Shondrella Avery.

• United States
28 Jan 09
Well, while i think megan fox would probably make a good lara croft, I hate that they are using her in angelina's place. I had when they change the main character in a movie like that. Like I haven't watched the third mummy movie yet because the changed the girl who played Evie. It would be one thing if they made it like an earlier movie which shows lara croft younger and then used megan fox, but I think that they should use angelina jolie in it. she made those movies and she made that character.