Floor Stands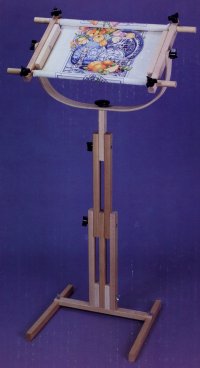 St. Catharines, Ontario
January 30, 2009 7:14pm CST
I'd like to get a new floor stand for my cross-stitching comfort. The cheapie I have now is really rickety. Has anyone used the "Stitcher's Wonder"? How did you like it?
2 responses

• United States
31 Jan 09
I actually bought a floor stand year before last for Christmas and it now sits in my closet. I just couldn't get a comfortable position with it. I finally went back to a hoop until I get up the gumption to work with it again. I'm not sure of the brand name of it. [b]~~AT PEACE WITHIN~~ **STAND STRONG AND TRUST IN GOD**[/b]

• St. Catharines, Ontario
31 Jan 09
Does it look like the one in the picture?

• St. Catharines, Ontario
22 Feb 09
Yes, that's the one. I picked one up from Michaels the other day. I had a heck of a time putting it together. It would be the right height for me and my favorite couch, and I like that I could have it come forward instead of having to lean forward, but I don't like that that it won't flip all the way over to work on the back because the dowels from the scroll frame stick out. I'll be taking it back to Michaels in the next day or two to get a refund and keep looking.


• United States
6 May 09
I've been thinking about getting one of these myself, but they seem kind of pricey. I asked my hubby if he could make one and he thinks so. I found a pattern and instructions online, too. The only thing is, he doesn't have a lot of the wood-cutting tools so it might be an adventure!

• St. Catharines, Ontario
6 May 09
It might be at that! From what I've heard from other stitchers whose hubbies said they could build one for them, it takes an awful lot of motivation on the part of hubby to actually
do
it.