Violence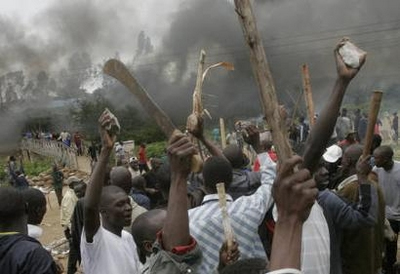 Philippines
January 31, 2009 7:48pm CST
why is violence against women more important than other types f violence? like violence against men and children for instance. why is making your wife across the face worst than smacking your child or husband across the face? also, most violence that occurs is man-on-man violence than women..so isn't that a bigger issue? what's so special about women that violence is a bigger issue for them than everyone else?
5 responses

• Philippines
12 Jun 09
The issue of gender inequality started way, way back. Now, why is it important, because in some parts of the world women are treated like 2nd class citizens. Also, there are emerging issues when women are being judged primarily because of her gender instead of her capacities. Where does violence against women come in? This comes in when women who are perceived to be weak tend to be abused by men more often. Abuses like wife battery, emotional abuse and pyschological abuse. There are instances like people who see this car being driven by some unlearned driver, people assume that the driver is a woman and when they see it it's another male. So you see without further verification there is already a prejudgement. Same thing goes with the societal view on women. Collectively, this kind of notion is one manifestation of treating women as 2nd class citizens. Thus, the issue on VAW is taken deeply. Actually, nowadays, it violence against women and children. This is because there are women and children who are not empowered thus being abused often. Take a look at this site: http://www.wccmanila.com/

• Beaconsfield, Quebec
15 Feb 09
Last summer, I worked in a shelter for women who had been victim of abuse. This shelter also accepted the children of these women. Some of the things that these women and children experienced is terrible. It breaks my heart just to think of it. I'm not saying that the violence that these women and children experienced is more important than other types of violence. But, for me, this is certainly the type of violence that I want to help prevent. And I think that everyone who wishes to stop violence, there will be an area of violence that they want to help prevent.

• United States
1 Feb 09
violence is that no matter who it is perpetrated upon. In our society it's been an accepable thing for some odd reason that men fight, it's in their nature. But to hurt a child or a woman is just no stood for. One thing is many woman are defenseless against a man, unless she cacthes him in his sleep and gets back at him. Which I don't suggest or condone. No one ans I mean NO ONE should be violent towards anyone. If you feel you must strike out at someone in anger or in hurt then walk away. It's not worth the problems that it creates.

• United States
1 Feb 09
in my opinion violence against children and elderly are far worse. i believe that any grown woman is able to get out of a situation like that. for instance if a man hits you and you are a woman, ummmmm hello, get out! i dont believe women are the only ones either. there are rare but some cases where women put violence on men. its bad either way but a grown person can defend themselves or just plain leave better than a child or elderly person can.

• United States
1 Feb 09
violence against women and violence against children are equally horrid acts women and children are generally smaller than men and less capable of defending themselves violence against anyone is bad but violence against women or children is just disgusting