Where Would You Like Your Birthday To Be Celebrated?House Or Beach Party?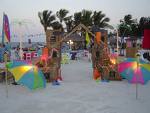 Philippines
February 1, 2009 8:36am CST
All of us celebrates our birthday. I am just being curious where do you prefer to

celebrate your birthday?Do you prefer just a house party or Beach party?In this situation, that is depending upon the budget that I have. But honestly, I want a beach party of course.

I want everyone who will attend my party to wear swim suit attire. I want it to happen in a beach which has a white sand. But as of this moment, I can't afford to that. Even the house party, I am still not capable. But hopefully someday I will be able to do that. What about you? Which do you prefer?In a house party or beach party? Justify your answer!!

1 response

•
1 Feb 09
I'd have the hotel at the bottom of road, it's a beautiful old building so we can party all night and then go upstairs to the bedrooms to sleep. It would cost about £3000 but that's with food, music, both bars and the whole hotel closed off just for me and my guests.