What's your favorite painting called?

Guangzhou, China
February 2, 2009 8:41am CST
My favorite painting is Vincent Van Gogh's Starring Night. I don't know why, but I loved this painting when I saw it at the first sight. The drawing and color seemed to be simple, but somewhat they made a beautiful painting. Now what's the painting you like?
9 responses

• United States
27 Apr 09
I am really not good at choosing favorites in any category. While I tend to like simplicity Starry night is a bit haunting to me, though. My husband loves the song Vincent (by Don Mclean) ... which has lyrics "Starry Starry Night Paint your palette blue and gray Look out on a summer's day With eyes that know the darkness in my soul Shadows on the hills Sketch the trees and the daffodils Catch the breeze and the winter chills In colors on the snowy linen land Chorus: Now I understand What you tried to say to me How you suffered for your sanity How you tried to set them free They would not listen they did not how Perhaps they'll listen now Starry, starry night Flaming flowers that brightly blaze Swirling clouds in violet haze Reflect in Vincent's eyes of china blue Colors changing hue Morning fields of amber grain Weathered faces lined in pain Are soothed beneath the artist's loving hand For they could not love you But still your love was true And when no hope was left inside On that starry, starry night You took your life as lovers often do But I could have told you Vincent This world was never meant for one as beautiful as you Starry, starry night Portraits hung in empty halls Frameless heads on nameless walls With eyes that watch the world and can't forget Like the strangers that you've met The ragged men in ragged clothes The silver thorn of bloody rose Lie crushed and broken on the virgin snow Now I think I know What you tried to say to me How you suffered for your sanity How you tried to set them free They did not listen they're not listening still Perhaps they never will

• Philippines
27 Apr 09
I know this song as well as my father has a cassette tape of Don McLean and I used to listen to that song.

• Philippines
3 Feb 09
Hi youless! Oh just like you, I do love Starry Night of Vincent Van Gogh but also love some of his works such as the Starry Night at Rhone and The Sunflowers. I also love Gauguin's paintings. Take care and have a great day! lovelots..faith

• Philippines
27 Apr 09
I also like that Dutch painter Vincent Van Gogh. He has a lot of paintings but I have a few which are my favorite paintings of him. I like the Vase with Twelve Sunflowers, The Red Vineyard, Bedroom in Arles, Night Cafe' and Starry Night Over the Rhone. I am an art fanatic and I missed going to art museums which I used to do when I was in college.

• United States
10 Feb 09
I am a big fan of any of Thomas Kinkade's work. I love all the colors he uses and the way he brings the light to life in a picture is amazing. There is one that he did that is in his Seascapes Collection called The Spirit of New York. It is simply magnificent.

• United States
8 Feb 09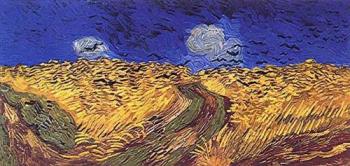 My favorite is by Van Gogh too . I love his Crows in a Wheat field.It has so much color and movement to it.

• United States
3 Feb 09
I would have to say that my favorite painting would probably be The Gaia Tree by Alex Grey. Alex Grey is probably my favorite painter or Luke Brown. My favorite Luke Brown piece is probably his drawing called Baphomet but he also has some really good looking paintings on his website.

• South Korea
2 Feb 09
i love paintings.how i wish i could learn..i want to paint myself infront of the falls..but i dont know..i have 1 that my grandma give to me..its a monaliza.it was great..

• India
2 Feb 09
i'm a fan of Picasso and i like his Guernica that depicts the Nazi invasion of Picasso's village. By the way do you know that Starry night was painted by Van gogh when he was in the lunatic asylum?

• India
2 Feb 09
my favourite is van gogh's cafe terrace. i simply love it . i have a huge copy of it framed beautifully in my drawing room and also i love the starry night and tha starry night over the rhone. it's simply fantastic. yhe night sky has been potrayed equally fantastic in the 3 paintings.