I have a very devious daughter....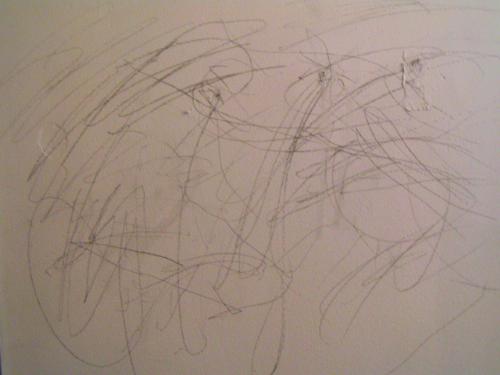 United States
February 3, 2009 9:54am CST
This morning after finally managing some sleep last night, the first night in 3 days.. I get up and am feeling pretty good, but that soon turned down right crappy. My 17 month old daughter had gotten up last night while everyone was sleeping, and somehow managed to get something to climb on, get on the deep freeze to get a red pen and draw a lovely picture on my wall... Now this isn't the first time she's done this. She's used purple crayon one time, to make a lovely place mat on the table... the next time it was blue pen all over the wall by the front door... the 3rd time it was pencil (photo attached) and this time lovely red.... We keep all this stuff put up so she can't easily get it, but she somehow ALWAYS fines a way to get it... how many other little artist do we have out there?
10 responses

• United States
3 Feb 09
Sounds like you have quite the little artist there! Maybe she will be one one of these days! Good luck. I had one too in the family but she didn't turn out to be the most creative out of my three children. She did frame herself though by writing her name on the wall, so she couldn't blame it on her sisters. She did try to hide it though by moving her dresser to cover it up. We found it years later. LOL! Of course there were other markings here and there, I guess it is all part of having kids! Try the new Mr. Clean Eraser, that should bring it right off!

• United States
3 Feb 09
As much as she has wrote on things, I should own half of Mr. Clean Magic Erasers... Funny part of the morning... We bought her a devil horn head band after halloween because she fell in love with it, and wouldn't give it up.... anyways, she left the pen and devil horn head band together under her drawing... I am taking that as my hint, it's only gonna get worse!

• United States
6 Feb 09
oh my gosh, I would have a heart attack...LOL, my son never really wrote on the walls but he did write on his toys with crayon when he learned how to write his name, this may be normal but he wrote it all over his toys...and because my mother always got him sidewalk chalk he would sometimes take crayon and write on the sidewalk, his name again....LOL at least I always knew who did the writing...

• United States
6 Feb 09
The first time I had to laugh, because she actually grabbed my hand to show me what she'd done... This time, she wasn't so happy about showing me... I was highly upset with the RED... At least he wrote on his toys and he could always know which was his if he took them other places and there be the same toy there, there was no fighting over of who's was who's lol...

• Canada
6 Feb 09
Kids are very quick and smart. You only look for a second to another side, they can be already up to their shoulders in something(like paint...). Maybe it will help keep her "artistic talent" in one place if you buy her a small table, only for her, with lots of crayons and paper.She'll know that's hers and she's aloud there.And everytime she "creates" something, you can hang or tape on the walls in her room.If it's something special, something that she puts lots of work in it, you can tape on your rooms' walls. That's what I did with my little artist. She knew she's aloud to colour, but only on her "special" spot, full with crayons, paper,and all kind of crafts things. When she did something special, I taped it in my room.The walls beside my side of the bed were full of her "creations" My husband did not like it very much, but he ended having some "art works" on his side too...

• United States
6 Feb 09
We are thinking about having easter bunny bring her a small collection of art things for her to see how she adjusts to it or if everything makes it to my walls, if that's the case then the art desk won't be coming for her birthday lol... That's cute, i've never thought of that. We do put a few little papers my son's drawn over the years on our frig but that's been the most of it... Your husband jealous your wall was filled up more? lol

• United States
6 Feb 09
My oldest is a little artist. Started early to. He know draws alot on his desk in his room. My husband and I own a boat dealership, when Josh was about 3 he decided that he did not like the way a new boat looked and decided to add some pretty colors to it. I was very lucky and blessed that Mister Clean Magic Eraser took out the art work. That would have been a tough boat to sell to someone with all his lovely art work.

• United States
6 Feb 09
Oh, I bet so. I would have come unglued on that one. I wasn't very happy about the wall... she just insists on just a few spots that can be seen when any one walks in to the house. Magic Clean Erasers are awesome, but what i'm learning, colored ink over and over in the same spot, and the erasers are starting to give the WHITE wall a tinge... lovely lol...

• United States
3 Feb 09
Our middle daughter is quite the little Picaso, she doodled on the wall of the nursery (behind the door the little sneak) with a black sharpie marker. This was slightly before I learned about the wonders of Magic Eraser so I had plenty of time to vent my anger and frustration and come up with creative punishments for the "little artist" only to be reminded by my mother that I colored a window sill in a rental apartment with every crayon in my box of colors and also defaced a Snow White and the Seven Dwarfs story book. She still got punished, since I still remembered the whipping I got for my "artwork" and now she sticks strickly to the paper....but she's still a sneak, lol.


• Holiday, Florida
11 Mar 09
well im glad they got many things these days for cleaning up such things. when mine were little they had a worse habit. they liked playing with matches and lighters. it was so hard to keep all that out of their way. somehow they managed to make it grown. but i dont have any firemen

in the bunch



• United States
24 Nov 09
I helped my bf clean up his place after the renters moved out. They had 2 or 3 little ones, and you could definitely tell it. All of the interior doors had crayon marks and magic marker on them. Plus all of the walls that were accessible in the kids room. It was quite a mess, and quite a chore to get clean. Talk about using the elbow grease, it took quite a bit of it.

• United States
12 Mar 09
I'm glad you took a picture, someday, in a hundred years, it will be funny and you'll cherish it. After you move out of that house and forget how hard it was to scrub off the walls. LOL. My niece used a Sharpie to practice her name writing on the wall by her bed instead of napping a few months ago. Where she got the Sharpie from, we still don't know.