single

Philippines
February 3, 2009 11:55pm CST
hi guy'z hav a nice day... are you happy being a single???for me, I'm so happy being a single it is because I live my life without bodyguards and I can go out any where wth my friends,but sometimes I can't deny the truth that I'm so curious about love.One of my friends approach me to say that I have to experuience a relationship with a guy but I'm afraid to love can you give me some advice?
5 responses

• United States
4 Feb 09
Being single always has its pros and cons, as does being in a relationship. It depends on what you really want. If you don't want a bodyguard of a boyfriend, you don't have to have one. Believe it or not, there are reasonable guys out there haha. You just have to be picky--don't just go for anyone, but someone that you think you will still be interested in a few years down the line.

• Philippines
4 Feb 09
i agree with you but we also don't have big limitations and i prefer to be single but not forever. Being single has a purpose and that is to live life to the fullest. Singleness is a gift from God and doing something to it is a gift to God and being single is to serve God, putting him in your life and believe in His divine providence. You know its your choice but i prefer if you'll wait for the right man for you so that you'll never regret and you will not be happy at all if "He is not the one for you" I suggest if you let time chose the right thing. Right thing at the wrong time is the wrong thing this is what i learned from Joshua Harris in his book called I Kissed Dating Goodbye. I suggest both of you to read it also so that you'll know that Love must be entrusted to God. Joshua Harris will be explaining to you the verses in the bible that relates to love and How it touches our life has God creations. Happy Posting!

• Philippines
4 Feb 09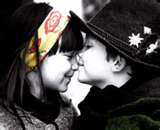 as of this moment.. i'm happy being a single.. i'm happy with my work, my daughter, my friends and my family that gives me support.. yes, i do agree with you, being single is free.. you have lots of freedom.. you dont think of other people than your family.. i better spend my time with my family, chatting and go somewhere that we can make fun.. for me, being single is fine..but if the right person will come then maybe that's the right time to love.. don't be afraid to get hurt because that's really part of a relationship.. it's your choice not to love or make yourself be loved.. good luck..

• Singapore
4 Feb 09
yea. i know what you mean. I've seen so many relationships around me that go array. And i won't deny the fact that at times i do steel myself up because i'm afraid to get hurt. But hey, things might not be the same for you as it is for others. So perhaps just make more friends and you never know, you might find love inside that circle of friends.

• United States
4 Feb 09
Not all relationships are suffocating! Maybe you could try casual dating, and see how things go from there. Sure, being single is fun, but so is dating/being in relationships. If you feel like someone's breathing down your neck, just dump them and move on! It's worked for me. =)