Death On The Carpet!!!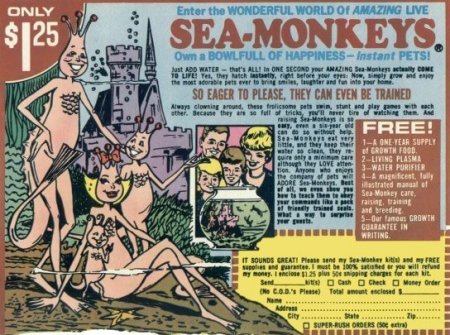 United States
February 4, 2009 9:36am CST
i must have been somewhere around 8 or 10 when i added the new additions to my family. there they were on the back of all the comic books........SEA MONKEYS!!! they looked like such a happy little group.....Papa Sea Monkey standing proudly behind his family. Mama Sea Monkey sitting happily with her blond locks and the little red bow in her hair. and of course the little boy sea monkey and baby girl sea monkey looking on happily. the advertisement promised "OWN A BOWLFULL OF HAPPINESS - Instant Pets" and "So Eager To Please - They Can Even Be Trained"*i had to get me some Sea Monkeys. they finally arrived in a little box, which contained like 4 little packets.....some kind of water treatments, food, and LIVE EGGS!!! so i grabbed me an old mayonnaise jar, i couldn't swing the fancy "sea monkey observation tank" and i played a scientist creating life, mixing the packets in a jar of water. i put the little jar on top of my dresser, and then i waited....and waited....AND WAITED.... and then one day i saw them, movement in the tank, i wondered if the mama sea monkey really had blond hair........which one WAS the mama........they were as big as a grain of sand.......THEY'RE PLANKTON PEOPLE!!! BRINE SHRIMP!!! anyways, i fed my little specks, and watched them zip around their mayonnaise jar until that one fateful day when for whatever reason i used the bottom drawer of my dresser as a step ladder, don't tell me you never did it, and watched in horror as my friendly specks toppled on to the floor. poor little specks......i couldn't even give them a proper burial, how do you do a body recovery of specks lost in carpet. anyways, as a young boy, they quickly faded from memory, and my room smelled like the ocean for a few days. and then i moved on to my next companion.......my Pet Rock. faithful companion until i took him rock climbing and lost him......i sure hope he was taken in by the wild rocks. have you ever bought anything from the back of a comic book.......the $9.99 one man sub, the x-ray specs, or any of the other awesome things only found in comic books??? was it what you expected???
4 responses

• United States
4 Feb 09
awwwwww I had sea monkeys too!!! I spent so many days trying to get my specks to do a trick.. and mom never did grow hair! I couldn't tell who was a boy and who was a girl! did you???? my cat drank my little family of sea monkeys! then I moved on to growing rocks in a jar.. it was sooooo cool..

• United States
4 Feb 09
we sure had fun didn't we???

give us a cardboard box, a piece of string, and a rock and we were good to go.

• United States
4 Feb 09
my mom and dad bought me a huge swing set for my 3rd birthday... and dad spent HOURS putting the thing together.. my sister and I loved the box!... we didn't swing until we had totally tore the box apart from playing in it... about a month later! hahaha!

• United States
4 Feb 09
i'm still playing with my Christmas boxes.........Chit.....i forgot what i got.


• Australia
4 Feb 09
Bwaahahahaaa! I absolutely LOVED my brine shrimp, Sconi! I actually bought them for one of the children years ago - and ended up with them on the windowsill in my office. They grew quite large in the end, and the Daddy ones (I'm assuming, as I'm not a qualified brine shrimp sexer) had magnificent, wavy gills down their sides and were very regal, like little swimming lions! They bred and bred, and in the end I had a huge colony of them. Then there was some kind of weird climactic change, and they suddenly started dying off. I wouldn't mind having some again, though - they were good friends ... *sob*

• United States
4 Feb 09
no worries guy....i guess you can still buy the little guys. they even have their own website: http://www.sea-monkeys.com/ i doubt they're still the $1.25 that they used to be, but they do now have a watch that you can put them in and wear them all the time.

• United States
5 Feb 09
I didn't order them, I got them at Walmart. They were such cute little swimmers until I started adding fish to the tank & my pet rock...Then they disappeared. My rock seemed happier though. Eventually I let him go in the driveway to run free with all his brothers & sisters.

• United States
4 Feb 09
Never bought from the back of a comic book. BUT we have started the Sea Monkeys at the house. Our 2 youngest are homeschooled. So we got them as science project. They are about 3 weeks old and about 1/4 inch long. Yes they are brine, but the kids love it. Sorry about your little friends and i am sure your rock was taken in, unless you were climbing limestone. Limestone seems to have an attitude. :) Pastor G

• United States
4 Feb 09
i'm glad your kids are enjoying their little pets. i didn't even know they still sold sea monkeys until i did a search for the picture i uploaded. i HATE limestone........tastes nothing like lime.