Our School stays open while all around others have closed their doors....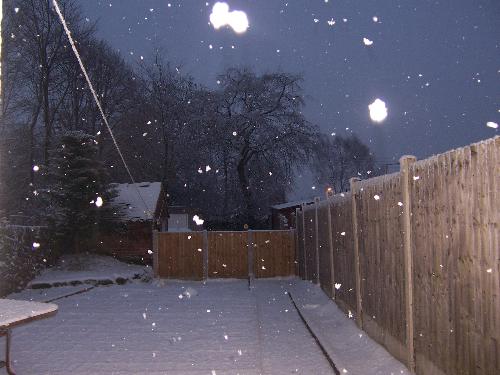 February 6, 2009 5:34am CST
All week we have had snow, and as mentioned in my other discussions it has been the first proper snow that we have seen for a long time. Well as soon as the first lot fell it sent our country into chaos because it seems we just cannot cope with it!! In particular the bad weather saw lots of schools closing their doors and many have been shut most of the week. The school my children go too however has not shut its doors once, it has stayed open the whole week and while I have moaned and groaned about going out in this awful weather I actually think that the headmaster should be commended for keeping the school running, he is a pretty dedicated headmaster who seems to really love his job and his school and that does not happen often. For me if the school shuts it is not a problem as I do not work but for many that do work it is a worrying time because then they either have to pay for care or take the day off work. Have any of my fellow mylotters been inconvenienced by the weather and schools shutting? For those who get snow every winter how do you cope and do the schools keep their doors open or do they shut their doors at the first sign of snow?
6 responses

• United States
6 Feb 09
We need alot of snow here in minnesota to close schools in my area. Even the middle of no where schools dont close unless there is at least six inches of snow. We close schools more often due to below zero temps that are unsafe like sixty below. So far this year my kids school opened two hours late once due to a blizzard warning but as soon as the storm passed the buses were tracking thru the mess.

• United States
6 Feb 09
[i]Hi gemini, Here in our area, if it is very bad like 2 weeks ago, they suspended all the classes and it was great for all the parents who will be driving their kids going to school! I have a friend who will send her kids to the day care when there is no classes, since she is also working![/i]

•
6 Feb 09
I think if it is really bad then school should be closed, I have to walk to and from school and it was not nice at all.

• Canada
6 Feb 09
Hey Rose! I am from Ontario, Canada and so snow is normal for us and often lots of it every winter! The schools here never close but the buses do cancel during bad snow storms etc. If your child is not bussed then they are expected to attend on these "snow" days! We live practically around the corner and so my boy always goes and I walk him there! ~Heavens~


• Canada
6 Feb 09
I know it is like that out in British Columbia (The other side of the country) some times as they are not always prepared..It is normally warmer and rainy there rather than snow...Even Public Transit has halted there! ~Heavens~

• Malta
7 Feb 09
I would be in a dilemma if I was instead of your headmaster. however I would keep the student's benefit first and foremost. If it is safe for children to come to school than I will keep the doors open, if not I will close it down. I do understand that it would be a problem for working parents that if a school close down they have to find someone who is able to take care of their children.

•
7 Feb 09
It is a problem for working parents because they then have to either take a day off work or find someone to have their kids it is a pain to have to do either.

• Canada
6 Feb 09
the schools here only close in the big snow storms, that is because travelling is dangerous and they are looking out for the kids, there be a problem with the heating system and they will close for that too but that is very rare.

•
7 Feb 09
My only gripe was that I have to walk the kids to school and the pavements were that slippy it was a bit of a nightmare.

• United States
6 Feb 09
Since we are used to snow, the schools only close when the weather becomes too dangerous to drive in, or when it is 25 below zero (faranheit) with the wind chill. We're allowed up to 10 snow days a year, and if we use them all and some more, they end up having to take away vacation days, such as during spring break, or summer vacation. Most years we won't use the full 10 days, and a lot of the schools will do a 1 or 2 hour delay instead of a snow day, which is helpful (gives the plows more time to clear the roads, and it warms up a touch). Like you, I'm not inconvenienced when schools are closed, but I do gripe about it because that means all the kids are stuck home, and it's usually too nasty to send them outside to get them out of my hair that day, so that's my only problem with it.

•
7 Feb 09
I guess when snow comes as it should every year then everyone knows what they are doing, here though everyone just falls to pieces!!