Relationships of the Future...50/50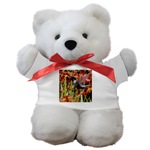 United States
November 9, 2006 1:57pm CST
A woman needs her own income and more. Outdated gender roles set up men and women for potentially unhealthy relationships, including domestic violence. What do you think? Men: do you want a woman who chooses to share her life with you or a woman you take care of? Why? Women: do you want to be able to take care of yourself and share your life with your partner/spouse, or do you want to be "taken care of" with all the consequences that implies?
4 responses

• Beaver Dam, Wisconsin
9 Nov 06
I love my wife because she is willing to take an outside job to help pay the bills so I'm not working two jobs and I'm never home.

• United States
9 Nov 06
Thank you for responding! Do you help with household chores as well?


• United States
15 Nov 06
Sometimes I think I would like to be taken care of, but without the implied consequences. :) I enjoy the job I do, but really dislike how I'm scheduled right now. I do enjoy my independence, too, and like taking care of myself, but it would be nice to know that working isn't mandatory for survival.


• United States
15 Nov 06
i'd like the feeling of being taken care of, it's sweet. but i need to work, it's a nature of me already (workaholic), i gotta be productive and lucrative. plus, that sense of self-reliance is something that makes me feel more secured and fulfilled :)

• United States
15 Nov 06
I agree that feeling self reliant is very important.