Are you on MyLot when you are sick?

Netherlands
February 7, 2009 3:48pm CST
I haven't been on mylot for two days because I was at home sick. I don't call in sick from work easily, but having a huge headache, a pretty serious case of diarrhea and not being able to keep in food, water or medicine it was a pretty obvious case that this wasn't a mild flue I was able to work through with a couple of painkillers or something. So basicly, I am not talking about feeling under the weather but 'drop to your bed and sleep for the next couple of weeks' kind of sick. When I am feeling a bit under the weather I will be MyLotting like any other day, but these days I felt like a rampage and haven't touched my computer other than contacing my parents downstairs over messenger to let them know I was still alive (having a sore throat shouting down from the attic wasn't that good a solution), and minor other things when I had a couple of good minutes between running back and towards the bathroom. So here's the discussion topic: When you are feeling sick, will you still come online to mylot? What issues will have the most impact on you being here or not?
8 responses

• Malta
14 Feb 09
Hi cyberfluf, I hope that you have recovered from your sickness and that you are back to your old self. When I am really sick I stay quiet watching tv if I feel like it but I don't use internet much when I am sick, let alone mulot.

• Netherlands
14 Feb 09
Thank you, Ronaldinu, I am feeling a lot better by now. I realise I haven't been replying that much the last couple of days though. I have been so occupied with work that there was hardly any free time left for me, let alone time to mylot. I hope to have some time again soon as I know I am missing out on some fun discussion

. Have a good (valentines) day!

• United States
8 Feb 09
If I'm tired or sick I can't think enough to do this. I give my answers a lot of thought...I don't just ramble on for a few cents a day. If I'm not feeling well or exhausted the words on the screen just don't make sense. I can't think of good answers either. On days where I'm on top of my game I love being on here and I can come up with a response to almost anything.

• Netherlands
8 Feb 09
It's good to hear that you find it important to give your answers a lot of thought. Without people who care about the way the answer we can't keep up the quality of MyLot. Thank you so much for keeping up the standards, and thanks for replying aswell!

• Portugal
8 Feb 09
i am new here so i still haven't got sick while i was here(thanks for that).But i think it would depend on the severity of my disease.If it was just one of those colds,headaches,something like that..sure why not?it would get my mind off things and had probably nothing to do anyway...i would sure mylot.I try to be here at least 1 hour everyday,but it really depends whether i have something to do or not...besides going to the internet while you're supposed to be working is great..ahah

• Netherlands
8 Feb 09
An hour of mylot a day, keeps the doctor away... hum, that would be an interesting new discussion! I agree that the severity of the dissease is what makes the decision final whether or not to MyLot. I try to combine mylotting with other things, like waiting for my printer to finish, listening to music or I reply to topics that have to do with my studies so I will learn from it whilst I mylot. I hope you have fun here, welcome to mylot!

• China
8 Feb 09
If i am sick or busy doing something on net,i won't go to mylot.In fact,if i don't have mood to reading,i won't here too.

• Netherlands
8 Feb 09
That sounds quite logical, MyLot does require a lot of reading if you want to make a quality response. So basicly, if you don't feel like reading you are absolutely right that visiting MyLot is not the best choice. Returning when you are more keen on reading and replying will improve your productivity and fun. Thanks for replying!

• United States
8 Feb 09
I'm at the tail end of pneumonia right now and I admit, I haven't touched my computer for most of the past two weeks. I just haven't felt like sitting here. It's not the most comfortable place to sit when I'm not feeling well. I hope you feel better soon!

• Netherlands
8 Feb 09
I agree that when you feel sick it's not the most comfortable place to sit. It's good to hear that your pneumonia is allmost over, I wish you all the best with it. Luckily I feel a lot better now, thank you so much for your response.

• Jamaica
7 Feb 09
Right now I am sick and I am still on mylot .Granted it is not the kind of sick you described and even then I may still try mylotting but it wouldnt be the kind of time that I would spend here.The only time I am not on my lot is when I have something that is more improtant to do or when I have lose internet connnection but while I can still type I will still be on mylot

• Netherlands
7 Feb 09
You are very dedicated, ronnyb. Good for you! Mylot does take a good bit of dedication to get the most out of it; to make friends and get involved in the community takes up a good chunk of your time. I hope you will be feeling better soon, and thank you a lot for responding to my discussion.

•
7 Feb 09
Hi there, sorry to hear that you have been sick. I don't come on myLot if I am really ill, but if it's minor sickness (i.e I don't physically need to be in bed) then I usually do go about my regular internet activities as it stops me from feeling bored!

• Netherlands
7 Feb 09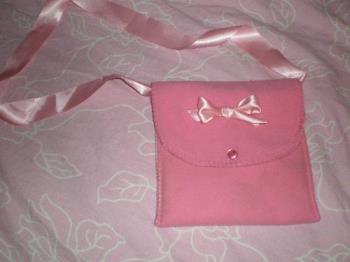 Thank you for your kind words, I appreciate it. I get bored easily aswell when I am just lying in bed all day (unless I am able to sleep, I like sleeping as it gets me relaxed like nothing else), and I agree if there is any possible way to be active I like to be active. I rather go to work or do other chores if possible, because keeping still doing nothing will get me bored and aggitated. When I was sick those days I turned an old scarf into a handbag handsowing it inbetween sleeping, bathroom-bussiness and such. It turned out rather nicely

. It prevented me from getting bored because staring at a screen (tv or pc) would only get my headache to become worse. I had to take pauses though because it was hard concentrating with a headache aswell... still, I like the result

.

• Germany
7 Feb 09
when i was sick, i tried to log in mylot.it works for a few minutes then i went to bed because i cant stand it anymore.i cannot consentrate at all.

• Netherlands
7 Feb 09
I agree that having a lack of concentration is one of the things that can cause you to not being able or wanting to be on mylot. If you are trying to give a quality response concentrating is important. Especially when you have a headache concentrating can be hard. Thanks for responding!