My Son is SO BRAVE!!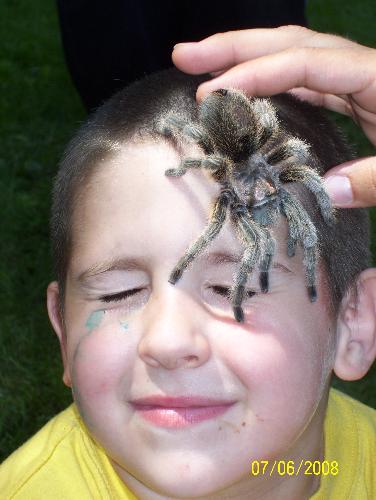 Canada
February 8, 2009 11:10am CST
So for my sons 6th birthday which was in July, we had a zoo to you birthday party! It was alot of fun for all the kids and she brought spiders, differnt lizards, scoprions, snakes, bunnies, parie dogs, something for all the kids there really. I am terrified of spiders but my son is not afraid of any of it, he was amazing me. i am attaching a picture of him that shows just how brave he is!!! It is hard for me to even look at the picture it is soo creepy! Could you do that?
2 responses

• United States
8 Feb 09
That's so cool!

I couldn't do what he's doing. I'd have no problem holding it, letting it crawl around on me
except
on my face. I can't stand to have things living or not in my face. Kuddo's to your kiddo!

• United States
8 Feb 09
hello kayla the birthday party that you had for your son's sixth birthday sounded like so much fun. and i checked out the picture of him as well with that spider crawling on him like that. no thank ya. lol i wouldn't want anything like that on me at all. but i bet that my eight year old son would love to have a zoo themed birthday party like that on his next birthday in September of this year. and aww, on the prairie dogs. i have only seen that type of an animal on television. i do not know if our local zoo here in Nashville has prairie dogs or not. thanks for sharing the news with us all here at Mylot about the zoo themed birthday party that you all had. what kind of a birthday cake did he have? lol was just wondering if it had zoo animals on it. take care and have a beautiful day today!