Scariest Bugs!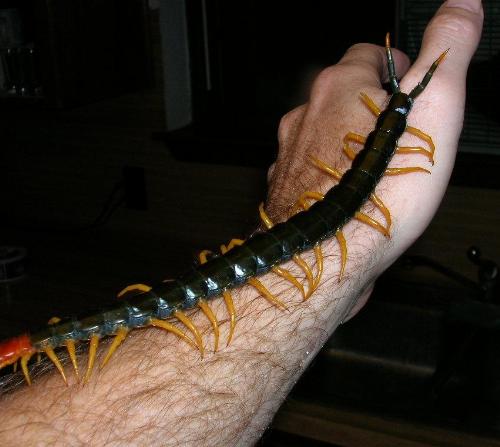 Czech Republic
February 8, 2009 4:35pm CST
Are you scared of bugs? I'm not normally scared of them but there are some that can scare the hell out of me. One of them is giant centipede. There's something about it...the way it moves, with it's little legs, the size and hard body...It creeps me out. Amazonian giant centipede is reaching over 30 cm (12 in) in length. It is known to eat bats, catching them in midflight, as well as rodents and spiders. The now extinct Euphoberia, was the largest centipede, growing up to 1 m (39 in) in length. There are rumors stating that the Galápagos Islands giant centipede can reach sizes of up to 60 cm. Centipede paralyzes it's victim with a poison and then eats it alive. But it's poison or bite isn't hazardous to humans. Still I know I'd rather hold a venomous tarantula in my hand than a creepy centipede. Speaking of tarantulas, here's the video of giant centipede killing and eating one: http://www.youtube.com/watch?v=2f5gBFMMmGc -giant centipede vs. tarantula What bug scares you the most?
4 responses

• United States
8 Feb 09
Oh great, I'm gonna have nightmares about big hairy spiders now. YUCK. I don't like Spiders either but as long as they not on me or crawling next to me I'm alright. I really hate the giant Roaches and Water bugs.

• United States
8 Feb 09
I'm not scared of most of the bugs that live in my area. I don't like the looks of some spiders if I see their faces because they are so ugly. I don't like cockroaches but they don't scare me. But looking at that picture of the Amazonian giant centipede crawling on that arm is enough to scare me. I wouldn't want to meet it any where so I guess I'll stay out of the jungle.


•
8 Feb 09
We don't really have any dangerous bugs in the UK, so I'm not really scared of any. I keep away from wasps and bees though, as I am allergic to them. I'm sure I'd be scared of bugs in other countries though. If tarantulas can kill humans, but centipedes can't - I'd keep away from the tarantula!

• United States
17 Dec 09
Honestly,I am afraid of ALL bugs.But centipedes creep me out the most. I didn't know they weren't hazardous to humans, but it still creeps me out.Like,what will they do in my sleep??You know...we saw 2 or 3 the other day and I don't even want to THINK about it, seriously!!!

• Czech Republic
17 Dec 09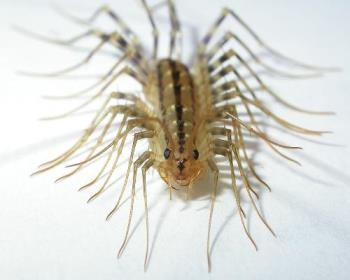 I see them all the time too. Regular centipedes don't scare me. Just the giant centipede...

• Czech Republic
17 Dec 09
this one on the picture is just common home centipede. is it the one you saw?

• United States
17 Dec 09
UGH! YES. Now I have that feeling you know when you think about bugs and they aren't near you and you know it but you feel like they are crawling on you ewww!!!