Surrogate Motherhood...Your thoughts??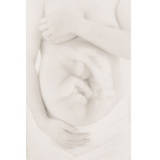 United States
November 9, 2006 3:25pm CST
What are your thoughts regarding surrogate motherhood?A few definitions for those of you who are unfamiliar:Gestational Surrogate - not biologically related to the surrogate - she does not use her own eggs, nor a partner's sperm. Traditional Surrogate - The surrogate uses her own eggs, with either donor - or the intended father's sperm. Just curious what your thoughts are on this topic!
8 responses

• United States
13 Nov 06
that is a really tough one, i had a really hard time getting pregnant with my son, i was 29, he was born when i was 30, he is now 12 and the most joyous thing in my life, i got pregnant again at 38 and delivered it stillborn in the 5th month, i love kids and it really makes me angry to see these women that can just spit them out and not take care of them, not wanting to give them up for adoption and sit on their a#* and live off of the government, so, if i were to be able to have babies for other women going through what i have i think i could do it, and i admire those that do it!!

• United States
13 Nov 06
I just want to say that I am so very sorry for your loss. I cannot imagine what you have gone through and experienced. I know you weren't writing to get sympathy, but my heart goes out to you. Really. You make some very good points! Thank you for responding!

• United States
13 Nov 06
This is a hot topic, I'm glad I posted it first.

• United States
13 Nov 06
I think it is interesting that you say that you posted it first, as this post was made 4 days ago, and the one you created was 2 hours ago. But, that is neither here nor there. You are right. It is definately a big topic. I did do a search before, and didn't come up with anything. I didn't a similar post posted, but I am going to go check again! I do think it is something worth talking about.

• United States
12 Nov 06
i think it is a good idea i had thought about doing this but then i had a lot of health problems show up and i dont know if i would be able to go threw with it after feeling the baby movements and stuff for 9 month but i do not see nothing wrong with it

• United States
12 Nov 06
I can understand that! Thanks for your response! :)

• United States
12 Nov 06
T think this method will be very healpful for couples who cannot conceive although they can be very expensive and not alwasy accurate

• United States
12 Nov 06
I see nothing wrong with it. It allows couples who are unable to have children the chance to have children.

• United States
12 Nov 06
Yes, I agree! I think it is a very special thing! :)

• United States
11 Nov 06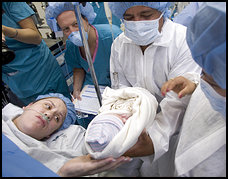 i think its a good idea for someone that cant have kids...my sister was goin to do it for me cuz i cant have any more kids but im scared of her wantin to keep the baby

• United States
12 Nov 06
AWE, I can totally understand your fear there. I would imagine that would be a very common response. I think the thing that helps me is knowing that I would not be biologically or genetically related in any way to the baby. I just think it would be the most special thing to be able to help someone have! I, personally, can not imagine life without my children.

•
9 Nov 06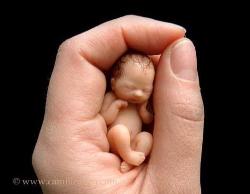 I think its a very difficult subject,i cant get my head around how someone can be so truly selfless without causing themselves great mental harm.i think its a fantastic thing they do giving someone the greatest gift but i couldnt do it,id feel like someone had ripped my heart out with the baby and stolen it.i wish anyone going down that path luck and love whether they are the surrogate or the parent to be.i personally would rather adopt.there are babies born every day who need families to love them.i dont judge though,everyone to their own.i know the longing for a baby can be overwhelming like an ache that wont go away.