Can mylot.com add a function like "search"?

China
February 10, 2009 1:56am CST
I was looking for a response I made several weeks ago, but just could not find it. The similar questions keep coming up, I would save a lot of time, if mylot.com could add a function like "search". Any alternative I can go to based on the existing structure?
3 responses

• Canada
10 Feb 09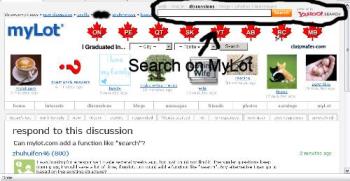 The search function is right at the top of every page...... it is a yahoo search bar I will add a screen shot for you.

• Philippines
10 Feb 09
oh, i am not aware of this. in all of my mylot life, i have only known of this existence only just now. i hope that i will be able to learn how to do it. many thanks to you, strawberrykisses, for having shared this information.

• Canada
10 Feb 09
You are both most welcome

• Philippines
10 Feb 09
i have been encountering problems as you do, zhuhuifen. at times, there are some discussions that i want to go back to. but, it is so taxing to find them. this exercise will only be good for those that i have responded to recently. as for those which were weeks ago, it is practically a thing to do which is next to impossible! now, i have given up on trying to find some discussions which i would like to review. instead, i just browse through the best responses board. but then, even that has accumulated so many pages already. well, your suggestion here should better be submitted to the mylot admin. it would be good if it becomes an added facility here in the community.

• India
10 Feb 09
Mylot does have a search option for Discussions, Blogs, Photos at the top of the page . You can use it for the things you wish to check out .