Do you use Pyrex bowls while mixing your ingredients?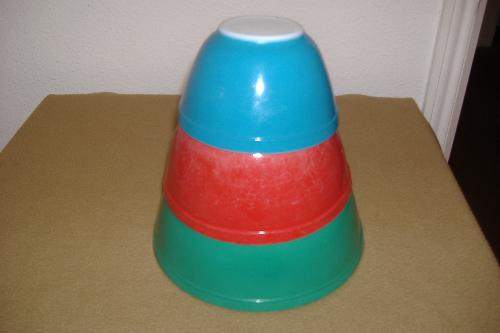 United States
February 10, 2009 10:28am CST
I love all my vintage cookware. I especially like my vintage Pyrex mixing bowls. They remind me of my mother when I was young. She would always use the green bowl to mix up your cookie dough. I only have the red, blue and the green Pyrex bowls from the primary colors set. I am still searching for the yellow one to make it a complete set. Do you use vintage bake ware when cooking or baking?
3 responses

• United States
10 Feb 09
i love vintage kitchen. i have the big yellow bowl but don't have the other ones. i use all my vintage things , very carefully , lol,. hope u find the yellow one soon. isn't it fun to look for things. i miss that but i have a houseful & really don't need anything. if i was go junking as i use to call it i'd be sure to find something i wanted.

• United States
10 Feb 09
I like to look in my local Thrift stores. I am sure it will turn up someday.

• United States
11 Feb 09
hello moneymommy your vintage cookware sounds wonderful to use. i do not have any pyrex mixing bowls like that but i would love to have some of those mixing bowls in my cooking collection that i do have thou. i have seen several different people on FoodNetwork's television channel use the green pyrex mixing bowls before and they are just beautiful. if i am not mistaken, Paula Deen has used one of those green pyrex mixing bowls before on probably more than one of her television episodes. maybe some time i will be able to add vintage mixing bowls to my kitchen dishes. take care and have a beautiful evening.

• United States
12 Feb 09
I do believe Paula Deen did use the green bowl in one of here episodes. Thats a great show.

• Canada
10 Feb 09
Hey, hey...I knew you would get an answer from ANTIQUELADY, and she is the one that can guide you as where to find them....I'll bet! I'll bet you cherish the ones you have, mine are not of that antiquity...but have your tried e-bay..and keep your eyes open for Estate Sales in your local newspaper, Garage Sales, too! I do not use my Depression Glass on a day to day basis, but it is my "good set", so to speak! Thanks for the great memories!

• United States
11 Feb 09
I have just been visiting the local thrift stores. I am sure one will show up. I am very careful when I use them. I would never put them in the dishwasher are anything. Dishwashers ruin the paint on Pyrex bowls.