The flag that hang in one of our city parks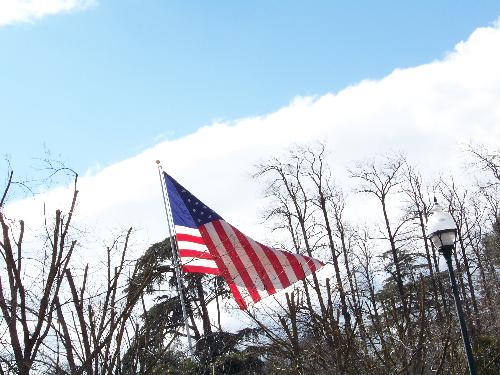 United States
February 11, 2009 5:13pm CST
This is one of our flags that hangs in our city parks. This is a replica of the one that use to hang out on Highway 99 in our town in front of the Framers Insurance Building. The Farmers Insurance company was at one time the biggest employer of Merced County. This is one of the Farmers Insurances buildings where they did all the billing, and pay outs of claims for the company. This particular building was closed down in 1999 and they donated the flag to the City Parks. When Farmers Insurance closed down there was 100's of people out of work in our town. Now the biggest employer in our town is Mercy Hospital. To day we had a little bit of a wind so on my walk with the dogs I took my camera and snapped this photo of the flag. I think the flag is so pretty and have often thought I would love to get a photo of this flag. Look at the sky today isn't is pretty with the blue sky and few clouds. We are expecting another storm today I sure home we get lots of rain with this storm we sure need it. Do you have a large flag in your town that you love to see? Do you have a favorite place in your town that you love to see?
3 responses

•
12 Feb 09
Yes, your flag looks very pretty amongst the leaves of the trees, my friend. As for where I live, it's a small village and no, we don't often have flags flying, apart from the Queen's Birthday and St. George's Day, on the tower of the local church and on Memorial Day, which is in November, at the War Memorial. That's pretty because there are a number of poppies and poppy wreaths laid there too in memory of the soldiers who lost their lives during battle. You will often see little Union Jacks laid on the steps of the memorial, or pushed into the earth of the little flower beds either side, as well. There's a nice splash of colour there during the winter months... in fact, they stay there all year, until the next Memorial Day. Brightest Blessings.

• United States
12 Feb 09
Darkwing can you give me a history lesson and tell me what "Union Jacks" are? I would imagine they are soldiers from some war?

• United States
13 Feb 09
Thanks for the lesson I have learned so much from you. You know us yanks we do not know a lot of your county.


• Anantapur, India
7 Apr 09
It is great flag when it fly's in the all corners in your country because you can see the places when no one their but your country flag with you and it was great experience to you.

• Philippines
13 Feb 09
You took a very nice picture of that flag... i like the way it swayed and the background suits it very well... i remember the flag ceremony we had in school when we were young... we did not really know why we need to line up and sing the national anthem while the flag was being raised or lowered... but we complied anyway...

• United States
13 Feb 09
It's like saying the Pledge of Allegiance every morning no one every explained to me why we had to say it. We just got up every morning before starting school and put our right hand over our heart and said the Pledge and in some classes we sand the National Anthem. Now I know what it stands for but when I was in school I was not taught what it stood for.