My very first payment online - thanks to pickjack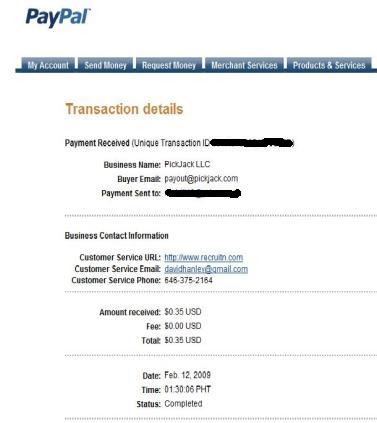 Philippines
February 12, 2009 4:48am CST
Hello guys! I'm very happy because I receive my very first payment earning online. I know it is a small amount but I'm happy because I experienced it myself earning online. It is really worth my time spending in pickjack. I will try to spend more time there to earn more. If you want to join pickjack you can see it on my profile. Before doing anything in that site you should read first the F.A.Q section of it. Happy mylotting!

5 responses


• United States
13 Feb 09
Hello, congrats on the payment. I am going to check the site out.

• India
12 Feb 09
nice to hear that.. I'm also there in pickjack..but could you please tell me how to make more money? by answering questions or asking questions ? I'm really confused ..

• Philippines
13 Feb 09
Thanks krishnarjun003! I can't earn that much in pickjack but nice to hear is that they have a very low minimum payout. I think you can earn on both. When you answering question, and if your answer is correct you can post a question related to the one you answer. After posting 10 related question you can now post a TOP question, it is not necessary to post a question related to the other question, it is better if your top question is very interesting and can have another question related to it. Hope it helps, you can pm me if you still don't understand. Happy mylotting!


• Slovenia
12 Feb 09
I have earned more than 6$ on PickJack but the problem is I can't receive payments on PayPal and admin didn't want to payout both to Moneybookers or AlertPay and PayPal at the same time. When he will make cashouts to Moneybookers or AlertPay I will certainly come back. Congratulations on your earnings!