Garden gnomes do you have them?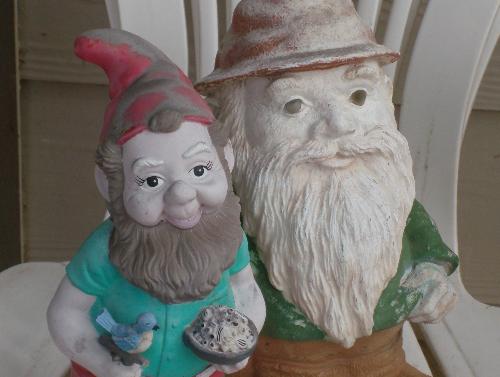 United States
February 13, 2009 9:20am CST
I am getting into garden gnomes. I think I will put them into my garden this year so they can watch over it for me lol. I bought 3 garden gnomes from a local thrift store for about a $1.00 I think they will make a nice accent to my garden. What do you think of garden gnomes?
7 responses

• United States
14 Feb 09
hello moneymommy my brother has several of those garden gnomes in his yard and they are really cute. i think that he got his several years ago at the farmer's market. and what kind of garden do you have? a flower garden or a veggie garden? thanks for sharing. i want to grow maybe one or two things this year outside in a very small garden to see what that i might have luck at growing. lol i love tomatoes so i need three or four tomato plants and i cannot decide what else that i want to plant. i like about all the different kinds of veggies that i can get ahold of. and i am not sure as of what that i need for a small garden, to keep things out of it wise. tin pie pans? aluminum cans tied together? lol take care and have a beautiful evening.

• United States
14 Feb 09
I am going to start a small vegetable garden. With some tomatoes,peppers,broccoli and maybe potatoes. I used to be an active gardener when I was a child and it was a hobby that I enjoyed alot. So I think I will start a small little garden out back and hopefully get some fresh veggies from it.

• United States
13 Feb 09
i think they are cute & sweet looking.

• United States
13 Feb 09
I think they are really cute. I know some people might not like them but I think there cute to look at.


• Philippines
3 Apr 10
HELLO moneymommy! they're so cuteee! As much as i wanted to have them, i simply can't because we do not have so much space in our garden. I'm hoping that one day, i could own them together with Snowhite, mini well, mushrooms and bird houses.


• Canada
2 Mar 09
Hi moneymommy...I love garden gnomes..they are such cute whimsical little people. I used to have all kinds of them everywhere in my gardens..they would be peaking out from under plants..standing guard at the front of the garden.. and scattered merrily about. Maybe they would even help keep the birds out of your garden! Then I moved to a condo and gave them to my daughter...MY then 2 year old grandson, thought they were great little friends to play with. He would rearrange them and hide them in different places, some more imaginative then I would have thought of. I think they absolutely add interest and a touch of whimsy to a garden..love to see them peaking about!

• United States
27 Feb 09
I don't have a garden but I do love gnomes.