What acne/ pimple cream works best for you.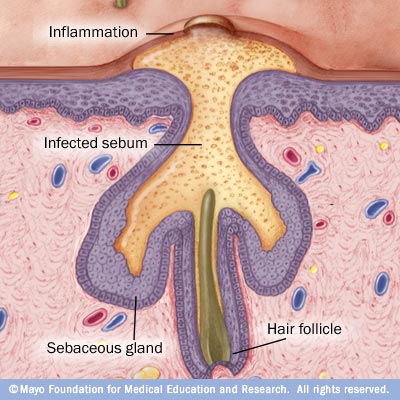 Philippines
8 responses


• Philippines
24 Feb 09
i have tried so many things on my face. though not that many as others have tried. but i got more pimple when i used moisturizer which is i think just safe for the face. since i think because i have oily face already that i should not use moisturizer. as of the moment i just lessened the use of those facial cleansers cause i seem to have more acne using them.

• India
25 Feb 09
I had experienced that at first myself as well. I thought my skin was allergic to the chemicals in the cream, so i gave up. Then i was told that it was dirt and dust on the skin that was the problem - and if you have dandruff you should remove it, and take hair bath more frequently so that your scalp is clean from dirt. Don't touch your face with your hands - or rest your chin/cheeks on your hands. Give it time - it will go away gradually. I used to oil my hair, but once i stopped, and used shampoo everyday, it's mostly disappeared. The idea is to keep your head cool - and your face shouldn't lack moisture, so wash your hands and face every time you return home.

• Janesville, Wisconsin
16 Feb 09
100% pure non concentrated lemon juice, and lime juice, (not together) I put the juice lighly on my face let it sit for a few seconds wipe it off with a hot wash cloth.. then just wipe my face again with warm water.. that works well. Usually I do not do this though as I do not care if I have acne... Also stirring up just eggwhites alot putting it on the face... and then washing it off helps too... But never do these without seeing if its right for your skin type, or testing it on a small area first... I wash with a warm wash cloth most of the time would only recommend the lemon or lime juice once or twice a week.. can dry out the skin if used to often. - DNatureofDTrain

• Philippines
2 Mar 09
I have a very oily skin and I easily break out whenever my period is about to come. Someone recommended that I use Cetaphil soap to wash my face. It worked for me. I also refrain from using makeup and if ever I have to, my liquid foundation is water-based.

• United States
25 Feb 09
I can keep my acne down if I don't use any store bought products on my face, cuz they have so much chemicals in them. Even the makeup I use is handmade (I used crushed minerals). I also use aloe vera gel on my face. I can't wait for this spring and our garden is producing, as I will be making remedies out of cucumbers and things like that.

• Philippines
24 Feb 09
oh hi. i used to have zits also but i have realized that the main reason is stress. when i relaxed and just forget all those problems plus i always drink lots and lots of water, clean my face twice a day. i just use regular soap for my face usually dove but if it becomes too oily i just use my body soap. well i guess everyone has her own beauty regimen, whatever it is that fits you may not fit the others. so for those who have acne, find ways that would fit your skin.

• Philippines
22 Feb 09
Hi there.. I dont really have much pimples. I sometimes have it when my menstruation is about to come. I dont really use cream on my face. I used to use ESKINOL clear when i was in the philippines but not often, only on days that I have pimples. At present I am using a BASIRON cream which I apply on top of my pimples only and vanish the pimples at most of four days.

• Philippines
22 Feb 09
I don't really have pimples and rarely get them. But when I get zit due to stress and pollution, Panoxyl works just way good. Cream of it cost Php140. Not bad for a long time use. For the white heads and black heads, I put on mask 3x a day or when time allows I go to have facial treatment. I'm lucky to have really good skin. So acne's won't be really my problem.


• United States
22 Feb 09
Hello strawberrychocodahi! I had some pimples from time to time especially if my period is about to come. But there was one time that it keeps on coming and that everytime one pimple's gone, new pimples are about to grow. My skin is actually sensitive when it comes to putting something on my face. So I asked one of my friend what's the best cure for it and she told me a cream she used when she had many pimples. She told me sulfur is effective. I used it and I just applied it to some affected areas and so far so good it's effective to me.