the movers from hell would you complain ?

Australia
February 20, 2009 3:46am CST
i recently had to move and i have not done that for a long time.so i went and booked the movers from a ad in the local phone directory.well these guys were horrible.they complained about lifting furniture upstairs and they mumbled things like "if she thinks i am going to carry that book case up stairs,she can think again" i actually heard them say that.they kept on going on about it that in the end i told them just to dump every thing on the back patio because i just wanted to get them out of my house.i had to tell them every little box to take other wise they would have left it behind.i thought that when you moved house you take eveything with you,so why would i not want to take everything that was packed ready to move. i paid a lot of money for these guys and moving furniture is what they do ,so why complain about doing it.would you complain to their management.i call them the movers from hell,and i am sure glad that i don't have to move again in a hurry.cheers sue
11 responses

•
20 Feb 09
I would complain Sue. Both to the company with the letter copied (visibly so that the company sees that you've done it) to your local trading standards people or whatever you call them there. The point is that you paid for a service which (presumably) included carrying the stuff into the house and placing in whichever room you wanted. If they didn't do that, or they made you feel uncomfortable to the point where you felt unable to continue with them in your house; then they are in breach of the contract. At the very least I would expect a good will gesture from them. I have to say that our experience was the complete reverse. Our movers came into the house the day before we left and packed everything down to the last tea cup. Moved it all down here and then replaced everything. We had to stop them putting stuff in the kitchen cupboards. Better still, as it was a company move, I didn't have to pay!

• Australia
20 Feb 09
wow you had good service pike.your right i think i will complain as i think that i paid them for the hour and they complained for 30 minutes every hour.i was told they would bring the clothes portable hangers and some boxes and when they turned up they did not provide them at all.i paid well over a grand for their services and the move was only 1 minute from my old house.well and to top it off the sent me a business card in the post and asked if i would tell my friends.lol.cheers sue


• United States
20 Feb 09
Of course you should complain. If you used a legitmate moving business and not 'starving students moving company", I would have called the office on the spot. A business needs to know that the people they are paying to move are being unprofessional and lazy and driving off future referrals.

• Israel
21 Feb 09
Starving Students might have been started as a student moving company, but now they are a real company and are expected to do a good job moving things without complaint.

• Uganda
21 Feb 09
I think those were really horrible movers whose aims were not really to help you but cheat you by over charging you. The best thing you should have done was to get a long list of them and consult widely on those with good reputation! Otherwise am sorry that they had to make you spend so much for poor service!

• United States
20 Feb 09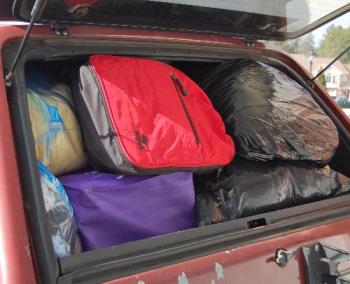 I would complain, to their boss, and his boss, and to the better business bureau if complaining to management doesn't get you anywhere. They are movers, they should know they have to lift heavy things, and that there will be stairs in some instances. I just moved this past Monday, however, everything I took with me fit (barely) into my vehicle. I left what furniture was mine behind, it was a split between me and my bf of 4 years. And there was still one box that didn't fit, but he is going to ship that one to me. Hope the rest of your move was better.

• Australia
21 Feb 09
sorry to hear about your move,but i am glad you got most of it in your car.i loved the photo of your car.yes i am going to complain,as they should know how to move furniture.i think they took advantage of me being a single mum and there was no male around.good luck to you i hope everything goes well after your split.cheers sue

• United States
20 Feb 09
I would have just smiled and said if you don't want to do what I actually paid you for then you can refund me X amount and I'll hire someone else to move the furniture upstairs. And of course I'll make sure everyone I know and probably strangers too know that they should hire the company I'm going to call to finish the job, instead of your company when they need to move.


• Australia
20 Feb 09
gosh i wish i would have had the stamina to say something like that to them,they were so intimidating,i am sure they would have stranggled me or something if i said that to them,but i wish i did.i just did not have the time to have gotten some one else,but i would like to see their faces if i did tell them i was going to get some one else who can do a better job.lol cheers sue

• United States
20 Feb 09
You definitely have to complain. That way someone else will not have the experience as you. I had a friend who picked out a moving company that way and she was moving cross country. The driver actually left the trailer and her stuff in New Mexico! She had the worst time trying to track down her stuff and the company did not help much. I don't know if they ever found the driver, and lots of her stuff was ruined/stolen. Sorry that you had to endure that, but you paid for a service and good serivice is what you should get.

• India
20 Feb 09
ya i agree with u ,because since we are them money to them we have the right to demand them i don't know why they behave like that. They behave as if they are doing free service. I can imagine how u felt at that situation as we are paying money to them we will obviously have the pain, because it is our hard earned money.

• Philippines
20 Feb 09
I would definitely complain to the manager or even the owner about their attitude... it is their job to move the furniture or all the items that you want them to move... and their mumbling and bad attitude is so uncalled for because you paid good money for their services... I think they did those things so that they can get away from the task that they should do... so i think you should definitely tell the manager...

• Australia
20 Feb 09
Yes I most definitely would complain about it. You did pay for them to do a job. If they don't like their job... They should do something else. Did you actually pay them before they did the job? You should not have. And if you did not... I would ask for a reduction... and not pay them until they give it to you.

• Australia
20 Feb 09
hi aussie.i actually paid them afterwards,i have not ever had movers before so i was not sure what to expect and what is the norm,but i knew these guys were not the norm.i even told them to try to get the beds over the balcony instead of using the stairs.i know they probably have o.h and s issues,but they are movers and your right if they don't like their jobs ,get something else.cheers sue

• Canada
20 Feb 09
Yes absolutely I would call the manager and let him/her know exactly what has been going on. By everyone saying nothing that is how these people continuely get away with this crap. Like you said it cost a lot of money to hire them, now they need to keep quiet and do the job.

•
20 Feb 09
I certainly would!! They didnt provide the service that you paid for. Any reputable company would welcome your feedback because they would lose custom if word gets around that their employees are not doing the job. I'd also expect a partial refund on the money I'd paid. I'd write to the customer service manager (or similar) giving all the details

• Australia
20 Feb 09
yes i think i will write and complain about their service.i did not know what to expect,but i knew it had to be better than what i got.you should have seen my son and i move all the heavy furniture inside, i could not walk for a week.lol.thanks cheers sue