Do you have pets at home..dogs, cats...iguanas...let us know...:)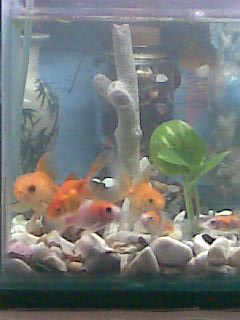 Malaysia
February 20, 2009 8:53pm CST
I keep a fishtank with goldfishes as my pets. We use to have a stray cockerel around the house as a pet too. Though I would really love to have a dog..but at the moment I can't have it..:( ..How about you..do you keep pets? How many different types of pets do you keep at home? Happy myLotting.. Princess
8 responses

• Philippines
21 Feb 09
We a have a dog at home,a half-breed black labrador retriever. She is very sweet and nice. I love this dog very much. I named her Ashley. WE have also a pair of lovebirds named Mariana and Piccolo. It is nice to have these pets in our home.

• United States
21 Feb 09
We have two cats and two dogs. Our newest dog is a 5 month old pup who is going to end up being quite large but she's a great buddy for our 3 year old small dog. They spend a lot of time playing, they leave their toys all over the house and they both love barking at the cats...which the cats don't like very much.


• United States
21 Feb 09
i have two pets. I have a dog and a water turtle that we keep in a ten gallon tank. our dog is a bit of a hand full but that is to be expected from a dog i guess. The turtle on the over hand is great. my sister bought the turtle for my daughter for her birthday and i thought it was a bad idea from the start. i have to admit it but that small turtle has gone on me and my family my daughter absolutely loves that turtle

• United States
21 Feb 09
hello princessgar that is awesome that you have a fishtank like that. my sons have had goldfish before and also a crab as a pet. right now we have a female dog and her name is Doughnut. i have a photograph of her on my profile page here at Mylot if you'd like to take a look at her. she is a very smart dog, she knows how to do lots of things. she was a stray dog, and we have had her now for around seven or so years. the goldfish and the crab both came from the elementary school that my boys attend. they won the goldfish by catching one of them in a cup, and then the crab was studying about them in school and if you passed the course on caring for the pet, then with parents approval, the child was able to bring the crab home. take care and have a beautiful evening.

• United States
21 Feb 09
I have a cat here at home. His name is Lion,and he looks like Morris the cat. he is the finickiness cat ever. I love my cats more that dogs ever. I had over 7 cats at one time in my house. Not right now though I can't afford the food and litter.

• Philippines
4 Apr 09
Hello princessgar. Yes, I do have pets. I have four beagles namely: duke, bubbles, diva and sienna. One basset hound named footlong, a shih tzu named fifi, three cats hershey, stri-ped and ali and lastly eight cockatiel birds.


• United States
21 Feb 09
i only have dogs and theyre ok to have..i dont really take care of them my stepdad does..cause my daughter is a handful i dont need to take care of more kids..but one of them lives outside and the other ones live in the garage..but they go outside during the day..the one that has to be outside is crazy she eats everything from plastic to wood..so i think you should wait on having a dog. a fish and a bird seems less stressful..well have a good day. :)