Serious... you call this fashion?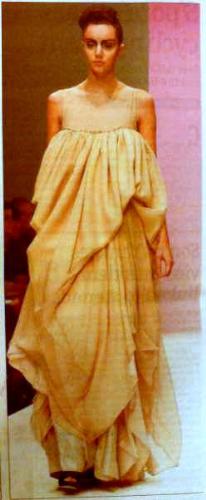 Singapore
February 23, 2009 12:00am CST
It looks frigging like she is draped in a piece of bedsheet! How can it even be called fashion? To wear this to a function, it is not complimentary to the figure. To wear this to sleep, it has too much material to make for comfortable sleep. Maybe I am just too old fashioned. But seriously, would you buy this to wear? Is it me or is it the way fashion is today?
8 responses

• Singapore
23 Feb 09
lol =D Fashion is not determined by u or me or even anyone else, but the designers themselves.. As long as they are famous, anything or any worthless piece of design they come up with, are considered new fashions.. lol =D That's the true because if one or maybe u or me, come up with the same thing, our work will be deemed as rubbish, and it's an insult to the world of fashion.. lol =D SO there's no point in following or trying to see, what's the fashion now.. lol =D

• Singapore
23 Feb 09
ha ha ha ha ha... point noted. True and valid one too! Well, to me, no matter how famous the designer is, a piece of crap is a piece of crap. Sort of reminds me of the story of the Emperor and his golden robe. Just because the tailors who "made" the robe for the king says it is there, the king believed. And the whole kingdom will have to agree. Only when the kid in the street shouted otherwise did the rest of the kingdom agree and laughed at the king's silliness. I guess I am that kid in the street!


• Guangzhou, China
24 May 09
In fact I can see much more crazy clothes than this one. Well, I have to say that I totally don't understand fashion:) It is just like that usually the movies we don't understand will win a lot of awards:) I am an ordinary person, I just wear normal clothes:) I am not that young to take a risk to wear weird clothes:) I love China




• Singapore
24 May 09
ha ha ha ha ha... I am sure there are piece of fashion that is weirder than this one I am referring to. And even if I am into new clothes, I really would be spending any money to get a so-called designer piece that looks like a shoddy-put-together-from-drapery dress! Like I said, I just cannot understand fashion as seen by all these fashion experts!

• Philippines
22 May 09
not a "dress" for me.it is not wearable.it's not flattering since it doesn't hug the woman's natural curves.I prefer wearable and timeless clothes.a simple black dress is much better than this.

• Singapore
22 May 09
I so totally agree with you! Re-looking at the picture I posted, I still cannot understand how this piece actually made it to the cat walk! The folds in the dress is not artistic. The color is hideous. And if you ask me, I would definitely not want to put it up in my store as a sale item even if you were to give it to me for free! But it is call fashion!

I just do not know how to appreciate this kinda fashion. A simple black dress, like you said, is anytime better looking that that piece of dress that the poor model have to parade in.

• China
5 Mar 09
hi, ahgong, i think it's ok to call that dress fashion, i just checked the picture. i don't like the dress at all. Before i watch the US TV series " make me a super model", i guess my attitude towards what can be called fashion was just the same like yours. but now, my opinion has changed, and i realized that those odd clothes, some can only be called a huge piece of cloth, as you have stated, are part of fashion. why ? because some clothes are not meant to designed for daily wear. some are only suit for tv custums, some are better for fiction tv show, and there are still some, i don't know where they should go to. by fashin, we don't simply equa it to our daily activity. i checked that picture carefully though i dislike it, i found it looks like a sheet, that's right, but it's quite complicated. and what's more, though we don't like it, have you ever thought? due to various culture, there may be some people from some culture, they may need fashion or clothes like that ! so we should not think of fashion issue only from our point of view. here, i recommend you to watch the tv series i mentioned. cool real life show ! if you have the interst and time. good luck.

• Singapore
5 Mar 09
Ha ha ha ha ha... I may agree with you that some culture has some very different views when it comes to clothes and fashion. But the picture was taken off the news paper where a fashion show was hosted in a uptown, chic city like New York! And that is one of the designs that was featured. And there are many more similar ones to the one you saw. And these fashion shows are attended by the likes of Heidi Klum, Armani, Fashion Magazines... etc. And if you tell me that that dress can be accepted as fashion in a highly competitive world of designer clothes, then, I must say, gone is the era of good designers!

I have seen that series you mentioned. And I must say, I do not like all of the designs of clothes that was shown on it. But at least, they look like clothes. This one that I posted, really looks like a half-hearted effort in getting something put together in order to meet the number of items to be displayed. It is totally uninspiring and unflattering to the person who was made to wear it! To think it was even allowed to be displayed on a fashion show really puzzles me.


• United States
3 Mar 09
Well, the outfit may look like a bedsheet. But if you look at the construction of the piece its not easy. It's not something that someone can just throw on like a toga and run out the door. But also runway shows are just what they are...shows. They are going to be more eye catching than what the retail outfit will be. The outfit that the desigener will make to be a bit more wearable and market friendly and will be very different. I personally wouldn't wear it, but I did think about it for a second. I think everyone has there on fashion sense, and that is why there are so many designers. Not everyone likes the same thing which is good. Fashion is what you may it. The designers are just a person with an idea. Its not as easy as it looks.

• Singapore
5 Mar 09
Well, I am stating it like I see it. A bed sheet is a bed sheet. Be it fitted on a bed or draped on a person.

After reading your post, I went back to look at the picture again and I still cannot see what is so fashionable about the piece the model is wearing. It is neither pleasing in terms of design, nor is it flattering to the woman's beautiful curvy lines. To me, it looks more like a piece of shoddily sewn... would you even call it a dress? Well, each to his/her own views.

Thanks for sharing yours.

• Philippines
23 Feb 09
Looks like some draperies. i think it would look good on my window. i had the exact color of curtain in my room before.