Insult to a country's flag.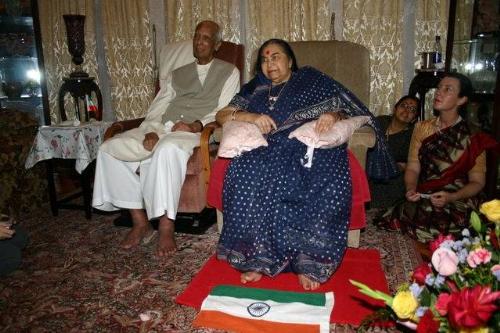 India
February 23, 2009 2:25am CST
A few days back i received a mail with a photo showing some lady with an indian flag right under her feet saying that she has insulted the indian flag. The mail said -- "Hello Everyone,These pictures I am sending you all shows the gross disrespect and insult to the Indian National flag by this so called "spiritual leader" and self proclaimed "GOD" Mataji Nirmala Devi. This disrespect to our countrys flag shows that she has definately no respect or love for the country that gave her so much and her husband who was an IAS officer and chief of the SCI (he is seated next to her in the pics). Such a shame. I do urge and plead with all Indians who deeply love their country to forward the photos to as many people as possible so that it does catch the eye of someone higher up in the Indian Govt who can really take some action against this cult."I dont know how to react as i dont know if this can be really rue.. what do you think??
5 responses

• Bangalore, India
23 Feb 09
Hi bhawnam its certainly an offensive act done by that lady and her husband. They must be sevierly punished by the government in public so that no one else should repeat the same thing. Ours is a country where Gandhi born and we indians should not tolerate such an disrespectful act towards our country. Be proud to be an Indian.


•
23 Feb 09
I don't understand this flag obsession. it's a bit of cloth. yet some people get more uptight about someone doing something to a bit of cloth than they do to real acts of cruelty or brutality, or even rudeness. yes,it's symbolic. but it doesn't HARM anyone when someone does something like this. I would much rather see someone do something to a flag than I would see them do something like kicking a dog, or being rude to another person. pride in your country is good. but you can't go round being offended by the fact that not everyone feels the same way. have some perspective. this is a bit of cloth. there are so many worse things happening in the world that this really isn't worth worrying about.

• Bangalore, India
23 Feb 09
If your country flag is a bit of cloth for you please dont mind then but for us its not just a bit of clothes. We compare our land to our mother and the flag symbolises our mother. Disrespecticting our mother cannot be tolerated by us. coming to your point kicking dogs and being rude to others they will certainly get it back from one or the other way. You know there is a proverb what you do is what you get.

• India
23 Feb 09
well, i have received this similar mail and dont u think its the truth tht she had infact insulted our flag... even our enemies dont insult our flag(i mean during the flag hoisting ceremony tht happens every day and night in the IndoPak border) and she being an indian, doesnt seem to mind... she nobody greater than Indian... She should be at india's feet, not the other way round.... This is my personal opinion...

• India
24 Feb 09
naw tht is not insulting the flag as much as provin how dumb the ppl are happy lotting and have a nice day! :D