Anyone still using Cash Crate?

United States
February 23, 2009 9:23pm CST
I have been a member for a long time, but I have not done anything with the site in quite some time. I logged in for the first time in months last night to realize that I have over $6 still sitting in my account. I guess I am just wondering if the site is still paying people on time before I bother spending time trying to make payout again there. Have you been paid by them recently?
6 responses

• United States
8 Mar 09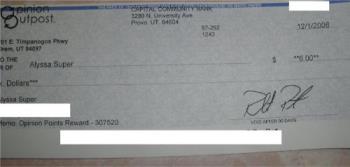 I pretty much gave up on them; something I noticed with them was that their offers rarely got approved (even with GPT "tips" kept in mind - clearing cookies, only doing a small amount, etc). I found that they didn't have quite as many offers as other GPT sites I belonged to (Treasure Trooper, to name one of them), so I just ditched out on them. They're definitely legit, and still pay people, so long as you meet that pesky $20 minimum payout.

• United States
27 Feb 09
Do you actually do the offers that make you 'complete offer or rewards' to get the money. I wouldn't be on there if I had the money, so why are they wanting me to buy stuff to get my money?

• United States
13 Mar 09
Been a member a while there myself. Yeah, they still pay. They did raise the minimum payout from $10 to $20. I am almost there. Got $16+ hanging in earnings. I spend more time here though. With the new baby I guess I am choosy about my computer time.

• United States
10 Mar 09
I started out raking in the big bucks, focusing on trial offers and then sort of ran out of offers because I had done almost all of the ones I could. I actually almost won the contest for most $$ made from offers in February, but right at the end a lot of my offers got snagged before being approved so I got 3rd place-- a $50 bonus though, not bad! I like CashCrate anyway, and I'll be checking back for when they put up more of the valuable offers I like.

• United States
27 Feb 09
CashCrate seems to be a good earner for alot of people. I do make some money on the site, but really need to get about 25 more active USA REFERRALS in order to really start making the money. I can do the offers and get them to approve, but I cant seem to get referrals. If anyone has any advice, please let me know. What forums to post in, where to put my link. I need this kind of advice, because apparently I dont know.

•
24 Feb 09
It is a slow earner for me, I don't know how others do it... Some of the offers are never approved

Have $7 on the site and think if I ever made payout, that would be the first and last one