when is the right time to take ur child to school?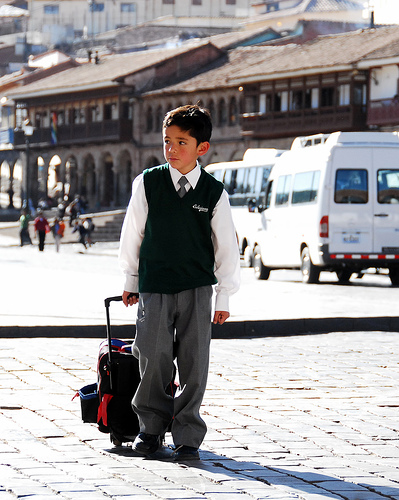 Philippines
February 24, 2009 1:35pm CST
I wonder if i can already enroll my son to school this year.. I feel like he already want to go to school. he loves to draw and color. He can draw line,circles and other shapes. He can count one to ten. He's only 2 and a half year old and will turn 3 on June. Is it the right time for him to go to school? how old is your child when u sent them to school?
6 responses

• United States
24 Feb 09
Maybe a pre-school or nursery school would be okay. Mst of the time, there is an age limit and restrictions. For example, when my youngest son went to pre-school, he had to pass a test to show his abilities, and he had to be completely potty trained, and he had to be at least 4 years old. I would check into it if I ere you, but do so with caution. Once you put a kid in school, I think it is important to make them go every day unless they are ill or a family situation arrives that makes it necessary for them to miss. If you let them go only when they feel like it, you will have trouble later on when there is no choice.

• United States
24 Feb 09
I agree with you about making them go everyday. I did NOT do this with my son and now that he doesn't have a choice it can be VERY challenging.

• United States
24 Feb 09
I'm not sure where you are located but here in the U.S. kids start school ate around five but parents can choose to put their kids in daycare/preschool whenever. My son started going to daycare part time (two days a week) when he was almost two but that was necessary because I had to work. I had him start preschool when he was about three and I feel that it was very beneficial to him. You'll know when your son is ready, for two and a half he sounds VERY smart and if you think he's ready I would get him involved as soon as you can. There are benefits to attending school besides learning; things like socialization, learning to communicate and share with peers, building friendships and such. My final advice on this is that YOU know best and I don't think it is ever too early to start school. Good Luck!

• Sweden
25 Feb 09
What do you meen when you say school? Here the children starts school in the fall the year they turn 6 (grade 0)- before that most children attend daycare from 2 years of age - many starts when they get 18 months old. The daycares are different, but most of them are talking about shapes, numbers and letters from start. When my youngest was 2,5 she counted to 15 (they were 15 children in their group - but that doesn't meen that she coud say it was 11 apples if she saw 11 apples). Focus at our daycare is Reggio Emilia where the take advantage of the skills the child have - they get their own food and carries their plate to the table and take it away after they've eaten and things like that. I wouldn't put my young children in regular education before they were 6-7 years old - they need the time to play a lot and learn trough play.

• Canada
24 Feb 09
where i live kids start school at 4. i think 2-3 is a little early it will wear them out and they will be very tired in the afternoon.

• United States
24 Feb 09
Your son would benefit alot from school at such a young age. My son started school at about your sons age. Its an early start program they go there full time take a nap, since they are little. My son had speech delay he improved so much. I recomend parents to take advantage of these programs. I have a younger son who will turn 2 in May, Ive noticed he picks up things quite quickly. I will be placing him in the program as well.

• Guwahati, India
24 Feb 09
When it comes to learning a child should go to school when it is 6 year old. Prior to that a child does not learn much and it becomes sort of burden for him/her. If you wish you could get him/her admitted in the Nursery classes where basically learn through play is practiced and at the same time they know socialization indirectly though.