my nephew KEIJI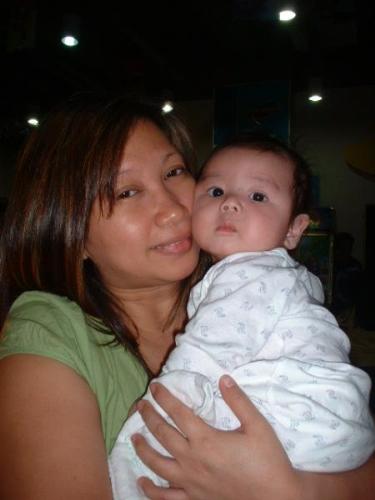 Philippines
February 24, 2009 6:38pm CST
this is my nephew Keiji, his mom, my sister went back to japan for hubby is there. she left her son to me for the mean time for they need to look for a bigger place and they are going to do a lot of work on preparing the house that keiji will be living at. some of our relatives pity Keiji for the mom is not aorund with him but hey i am a good mom too.

i give Keiji the same equal love that i am giving my four children. and besides this is my first time to be an aunt and i am so excited to be an aunt. i know when the time comes that Keiji has to go i will be crying and will sure be missing him, but for the mean time while he is here with me i will shower him with all my love and i will make sure that he is happy. he is 5 months already and now slowly appreciating sponge bob. lol
7 responses

• Philippines
5 Mar 09
Kenji is very cute... makes me want to have another baby... but right now that is not possible because hubby is currently working abroad... I am so sure that you are a good mom/aunt to Kenji... i don't really pity him because his biological mother is in Japan... the separation will only be for a short time... and he is surely in good hands... but you have to prepare yourself because when he leaves... it will be very painful for you...

• Philippines
5 Mar 09
hi aser, sorry but my nephews name is Keiji ang it is read as Kg as kilogram lol. thank you very much for not having this pity feeling for him for i am doing my best to fill the space of his mommy. yes it would be really painful for me when he goes maybe i just need to make myself more busy so i wont miss him so much. thanks for the response

• Philippines
27 Feb 09
your nephew is so cute.i miss to have a little baby.i still dont have nephew,i mean my sisters and brothers kid.but i have lots of nephews like kids of my cousins.it's good that you give keiji the love that u give to your children.your nephew is lucky to have an aunt like you.so keiji like spongebob.thats cool!how about squidward.? whahaha

• Philippines
1 Mar 09
of course he is cute girl, cuteness runs in our family.... CHARUZZZ. well this is my first time to ba an aunt... though i have a lot of cousins who have their own children and they call me aunt roni. i think keiji also knows all of the character on spongebob because of their voices. nyolet nyolet..... whahahaha. thanks for the response

• New York, New York
25 Feb 09
Hi Roni, I know you will be sad when he has to leave so enjoy every moment you have with your nephew, he is so cute. I know his Aunt Roni will be spoiling him. Make sure you take lots and lots of photos so you can remember this wonderful time you have with him.


• Philippines
1 Mar 09
oh yes howard, everytime i think of the day that keiji will be leavng it makes me feel sad. if i think that someday he might forget me it really makes me feel sad. but i am also happy and happy that i am showing keiji what i am as a mom and as an aunt to him. he will always have a special place in my heart. yes we have tons of photos already and i will soon be putting it in an album and when he is old enough i will show that all to him. thanks for the response

• Philippines
25 Feb 09
Your nephew is so cute. I agree that when it's time for keiji to be with his mom it's going to hurt. He's like a son to you, I know. But, keiji surely lights up your home now and I'm sure you all treasure the time that he's with you. I'm sure youire taking very good care of him.

• Philippines
25 Feb 09
i am trying my very best to take good care of him. trying to stay awake when he is sick, and now that he is starting to eat i make sure that his food are the one that i prepare and not the one that is just bought at the grocery with msg and preservatives. i am proud of myself and i am so happy that i had a chance to be a mom for keiji. thanks for the response

• China
25 Feb 09
From the picture,you looke so happy. so i believe you would be a good aunt.do you have four chindren, luckly. in our country, china, we only have one baby, if you wanna more, would be punished. so i envy you. now i have a daughter ,but i and my wife wanna have a kid more.so.... anyway, congratulations!

• Philippines
25 Feb 09
nice to see that you are taking my advice and posting atleast four lines. yes i heard on news that you are only aloud to have a child. for the population is too much already. i hope that kind of law will be implimented here too. lol. there are a lot of couples here who had a lot of children. some have 7 or more. and it is not easy to feed them and most of them can not go to school. thanks for the response and happy to see you here at my discussion

• Quezon City, Philippines
25 Feb 09
I am pretty sure that babies do have a special place in our hearts. That would be painful for you in case the time comes that they will have to get it from you. But then for as long as they will give support for you in caring for that at least you won't have a hard time taking good care for that baby. Anyway enjoy it while it last but I think you should not allow yourself to be too attached with him because it is hard to just let go when you are about to return it back to her mother.

• Philippines
25 Feb 09
yes of course they are giving financila support, but mostly of the money they are sending is for the baby. milk, diapers and immunizations. he is already five months and he is starting to eat. even i say that i will not get attached to much.... it is not easy. first he is my nephew.... other people like yayas of the rich ones get attached to their alaga to the fact that they are not relatives or not related at all... what more me that keiji is my nephew. as of now i just do what i have to do and keep reminding myself that i am not his mom i am his aunt lol. thanks for the response

• Canada
25 Feb 09
You are obviously a wonderful aunt,what your doing is a great thing and i'm sure your sister really appreciated.There is no reason for anyone to pity Keiji,he is being love and taking care of by a beautiful mother and family.Good for you for being a great help.keep up the good work!!:)

• Philippines
25 Feb 09
thanks for the appreciation, sometimes i feel hurt when relatives say that they pity keiji. for i know that i am doing my very best for keiji to feel at home. and since my children are all teens and he is the only baby at home and he is very loved not only by me but my children as well. thank you also for the fast response. have a blessed day