How do i get to know my real internet speed?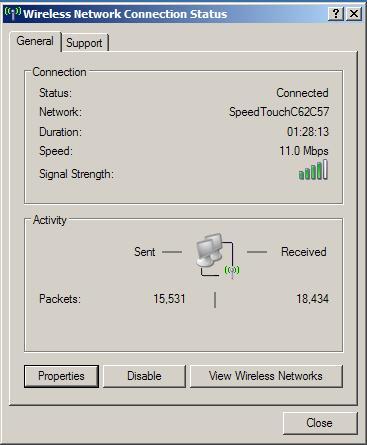 India
February 25, 2009 4:41pm CST
The internet service provider told me that my internet speed was 512 kbps and I thought that the speed was fine in the beginning but, i guess its much slower now. Sometimes it becomes slower than my friend who has a 128 kbps speed. I complained once and they told me that it was with the server and they are going to fix it within an hour but i don't see much improvement. As my technical knowledge is less, I am once again asking you all how to i know the exact speed so, that i can show the technical guys that my speed is only this much and i am paying for 512 kbps scheme.
6 responses

•
25 Feb 09
Your actually download/upload will be slower than what you pay for... unless you have a satalite link. www.speedtest.net On there you can test your connection times to various places around the world. To my nearest in London I can get a surposed 2MB dl peak and 26ms ping. to San Francisco I get... 336 ping and just under 2mb dl peak.

• India
26 Feb 09
Please make sure the unit mentioned in the internet speed test meter. The units kbps and KB/sec both are representing the internet speed but there is a difference. 1 KB/sec= 8 kbps is the factor, to be considered while testing the speed and in the bandwidth test meter it will be indicated. If your connection speed is 512kbps(=64KB/sec), the actual speed may vary between 450kbps-550kbps(=56KB/sec-69KB/sec) is normal and this depends on the network congestion.If your speed goes below the above limit, there may be a fault somewhere. On seeing the screen shot, it is found that the number of pockets transferred is low for nearly one and half hours usage but this also depends on the site we are visiting and the activities we are following. You again test your speed by locating the server which is nearer to you and repeat the step for 4 or 5 times and find the average. Carefully not the unit mentioned in the meter,if you use some bandwitdh meter and mostly it will be in kbps.Otherwise for online speed test follow the link to test:http://reviews.cnet.com/internet-speed-test

• India
2 Mar 10
You simply go and check your internet speed here http://www.ip-details.com/internet-speed-test/ ..It shows both uploading and downloading speed..You can compare with the other results..

• Malaysia
27 Feb 09
Basically healer ..You would not expect the full speed give by your telco.. because there are other component involve. webserver speed congestion Bandwidth throttling (bitorrent,P2P,Websites) Maximize profit and limit network upgrade by the ISP. SO it come to a conclusion.. I don't care much on the bandwidth unless is really snail pace I will contact the ISP and complained


•
25 Feb 09
Go to http://www.speedtest.net/ and run the test on your pc. You ask for 'the exact' speed but after you run this test a few times you will see that there is no such thing as 'exact'. You will be sharing your broadband with others - how many depends on how much you are paying. The more you pay the less the contention ratio = the less you share. A contention ratio of 100:1 is not uncommon so the more of those hundred connections are trying to download at the same time the slower your connection.