Pickajack a scam site

India
February 27, 2009 2:13am CST
IS pickjack a big scam site it says that they uypdate your account after every 30minutes i made an acocount over there 2days back i answered over 50questions n wrote 10 questions for others but even after 2 days being over my account balance is still 0 please help me??? Happy Mylotting
9 responses

• Philippines
27 Feb 09
Nope they're not a scam. In fact, they're one of the most reliable sites who pays their members. Your account was not updating coz you need to be active there everyday and if you didn't, they will deduct your earnings. It happens to me a lot of times. It's hard to lose or leave the site coz in my experience, they really pay on time..

• India
28 Feb 09
I agree with you,friend. The fact is that the discussion starter is too impatient. He wants to earn a million dollars every second, which will never be possible. And thus, he starts abusing the sites/people who don't do it. he did it to me and now he is doing it to pickjack. I would advice everyone to ignore him.

• Philippines
27 Feb 09
PickJack is not a good site! I looged in one day and my account is not already working. I have spent time more time before in PickJack than Mylot but I have just wasted my effort because I have not earned even a single sent. So, to all PickJackers, if I were you I wont continue using the site. They are scam!

• India
27 Feb 09
Even i tihnk so that now as i too think that they may be a scam site

• Australia
5 Feb 10
hi there lethalboy i have been paid once then i was not active did not get payed again the other thng is i like the questions.


• Indonesia
2 Mar 09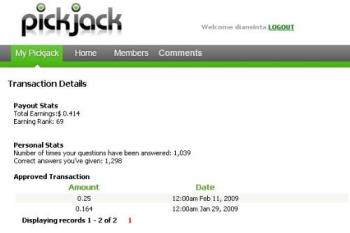 Hi lethalboy, About pickjack, Its paying alright, but it will reduce your earning unless you will online there all the time, i upload you my earning from there, and i already got paid twice about $0.25 and $0,164. I got reduce from $0,70 to 0,60 yesterday , oh, well...as long i go paid.. Happy posting always, oxox'dian from Bali Indonesia.

• India
28 Feb 09
hi friend, i am also a member of pickack from one month and this is one of the most legit website and this will paid me many time . i will put this website in my legit website list.friend, i have face same problem but this will happen due to some problem.just check it out.you balace will again reset and that will not zerp.just it again friend. i hope you will get paid on 5 march. happy mylotting

•
27 Feb 09
With so many member they aren't able to pay a lot each so it takes a lot of question answering to start to register any money. Every correct answer a member can post a related question and every ten of those a member can post a new top question. This will earn more if people post related questions under it. It is more realistic than sites that promise loads of money to free members. Thanks to everybody for reminding me to post every day. I have only been a member a few days and am still addicted so have been visiting so far anyway. Think I might take a rest for a while after 5th March when payment should be made then start again nearer the end of the month.

• India
27 Feb 09
The only problem there is that the amount you have earned goes down very fast and it is a big de-motivator sort of thing. you earn like .55 an the next day it is .33 which really hurts. but thats the way it is i guess. Hope they improve , or else they would lose out on participants.

• India
27 Feb 09
Its not a scam, becouse some of mylotters got the payment from them. Not worth for the time we spend there. If you are not active then your balance will decrease,Not worth.

• India
27 Feb 09
I think its not a scam, Some of mylotters paid last time. Payment varies, 2 days back I had 23 cents now in my account only 3 cents are there. I feel its not worth spending much time. If you are not active then you balsnce will decrease. So Not that good site.