Risks in baking cakes: Rewarding? Or just too costly and a waste of time?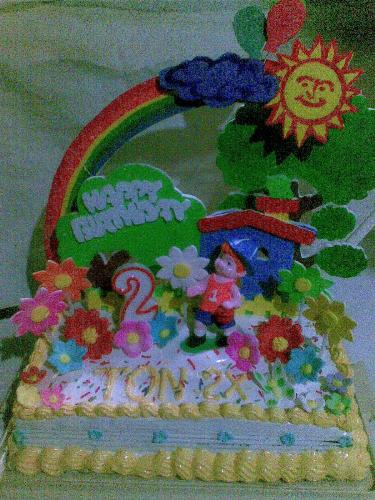 Philippines
February 28, 2009 1:15am CST
Have you ever tried of asking yourself, "Why bake a cake when you can buy one?" You may seem to realize of waste of time, too costly to get started and not practical nowadays? To those who are interested of knowing the risks in baking cakes (in my point of view), just give me a response and I'll share to you based on my experiences. Hoping for your responses guys... Thanks! =)
3 responses

• Pakistan
28 Feb 09
Well,I would always go for baking a cake than buying one! I don't think it's that costly but you are right, it does take time and work to prepare a cake. But, there is just something about making your own food even if it turns out bad that gives you pleasure. HappyMylotting and Welcome to Mylot!

• Philippines
28 Feb 09
Thank you for responding. For me in some cases, I prefer to buy than baking one or other way around. I love baking because even if how time consuming it is, but at the end especially you've done it successfully? The reward giving feeling that you felt can't be replaced by anyone else. Even if you bake just a simply cake,but makes me feel proud after all.=) It's just that, money and time is involved and the risk of having it done successfully or not. But I believe it's fun and challenging. But jziakhan, haven't you thought of giving up baking especially your cake turns out badly? Considering the cost and time? Hoping for your answer! Thanks =)

• Spain
28 Feb 09
Not being a sweet toothed person, I neither buy nor bake cakes. However, I do see the merits of making cakes at home. For a start one can juggle the ingredients to get the taste one wants, you can decorate it specifically for any occasion, which might not be available (cheaply) in the shops and, I have to say this, there is nothing like the smell of fresh baking in a house to make it feel warm and welcoming. What do you think?

• Philippines
28 Feb 09
yeah! I like your punky answer ritz. I think you're a cool woman! Yes, it's an incomparable feeling of baking and eating your own baked cakes than from a bakeshop or cake store right? It's just that, sometimes when it's still undone, you have this doubt feeling of whether it's successful or will turn out badly. But the best thing in home baking is you are the boss of what ingredients you like. and you're a 100% sure of the content of it's ingredients. But ritz100, haven't you tried asking yourself, "Are those ingredients at the cake store for real or just a commercialized one which is not good for our health?" And that's why you go for baking of you own? Just want to know your own opinion. Thanks =)

• Spain
28 Feb 09
Most bakeries buy in bulk so I would imagine they contain additives and preservatives that we are not aware of, and maybe neither is the store. Then, baking at home gives us the control over what quality of ingredient we will use, for example using walnuts - the store baked ones will be broken or crushed then prepacked, so less flavour, whereas if you bake yourself you can buy walnuts in the shells and you then know exactly what you are getting. More work I know, but I think its worth it.

• United States
2 Mar 09
My family doesn't eat many cakes so I don't often bake them. I don't care for most of the ones from the bakery either because they are usually very dry. If I'm going to have cake I will bake it myself. I don't want to feed my family all the ingredients that I can't pronounce. There are a few secrets to baking a very good cake at home. One is to use cake flour to start with. If you don't want to buy cake flour you can make your own with with ¾ cup sifted bleached all purpose flour and two tablespoons of cornstarch.