Grim and Evil

United States
February 28, 2009 5:22pm CST
Ok from the title of it you probably wouldn't think that these are nicknames of two highly cute and lovable girls.

... Yah lovable.. Which they are but they get their nicknames because they are grim and evil... My question to you is do you remember the cartoon on the cartoon network The Grim adventure of Billy and Mandy.. Where Grim was even less evil than Mandy .. Well that reminded my boyfriend of our two daughters. Hailey is Grim and Trina is Evil... I guess that is also why we call her Treason instead of Trina at times. See Hailey will be cold and calculated when she has to be while Trina will do what she needs to do to get what she wants. Even if that calls for switching loyalty... Don't think for one second that I think my kids are bad or evil just opportunistic. LOL!! Although they get in trouble for their evil ways they are very loving and kind and on the most part honest.. But they do have a dark side.. I guess everyone does..
In order to make a discussion out of this do you have a story about how your kids or kid got their nickname?
7 responses


• United States
3 Mar 09
Ryan called Hailey Bit when she was born because she was so tiny. LOL!! then as she got bigger she was cuter than a bug in a rug so she got the nickname bug then.. LOL!!! I swear I miss the baby days with hailey they are much more laid back than now... LOL!!!

• United States
3 Mar 09
LOL !! Picnic since when were any kids a picnic. LOL!!! It'll get better. LOL!!


• Regina, Saskatchewan
1 Mar 09
My kids don't have nicknames. I, unlike some I could mention (wink,wink,nudge,nudge) am a proper mother and call my kids by their proper names! ROFL

• United States
3 Mar 09
In my defense I call them by there proper names!!! But that usually isn't a good sign for them and they know it ..LOL!!!!

• Regina, Saskatchewan
3 Mar 09
I do believe I've heard you do just that. LOL Even with the phone held three feet from my ear! ROFL

• United States
3 Mar 09
LOL!!! I know I can be very loud especially now..


• United States
28 Feb 09
Crystal is Smurf though I've no idea why. Devin was D. because that's what his brother called him. Josh was Decker because Holly thought his hair was like a guy from her soap. Cait is pumpkin because of her hair or Caiterbug because... I don't know it's just what I called her. Meagan is Peanut because that's what Grandpa called his baby girl. As she was my last it fit....until Monster came along. Rowan is Noodles because Aunt Amy said so, Monster because he's BOY even with his disabilities. Think big monster from cheesy horror movie. Hubby is Hero because of a song that was out at the time we found each other.

• United States
28 Feb 09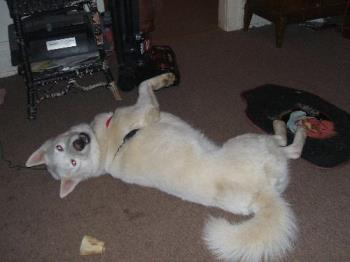 Awwww. They are all cute names. I meant to add a picture below of my Grim and Evil... LOL!!!! The one in the pink coat is Evil and the green coat is Grim.

• United States
28 Feb 09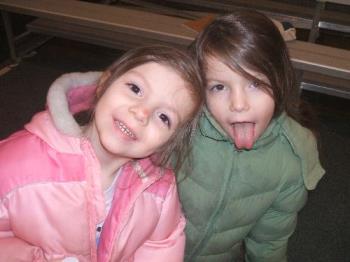 ok never answer 2 discussions at once because they won't post the right pics.


• United States
1 Mar 09
I love that show as well. My husband and I watch when we can without children around. Our children have a few nicks, depending upon the situation. My husband often refers to our son as "Boy" or "Boy-o". He also sometimes calls him "Little Samurai" or "Monkey Boy". All are terms of endearment. I think the "Boy-o" is a Minnesotan thing to be honest. The "Little Samurai" comes from my husband's belief system and how he's raising our son. Our little girl we do sometimes call "Bella" which is just short her name. Sometimes we call her "Monkey girl" as she's like her brother and likes to get into things she shouldn't. I sometimes call them "Munchinkin butts" and I'm not really sure where that came from lol. My older girls used to have nicks when they were little but of course, being in high school now they aren't so cute. I called my oldest one Rotorooter because when she learned to crawl she was always getting into clothing baskets and "rooting". I tried to nick name my second oldest MJ, her initials, sort of like MJ from Spiderman but she didn't think it was "cool".

• United States
1 Mar 09
They are all cute and cool names. Funny story my dad has always called me MJ because of my initials and no one else did I was shorty, shortstuff, Kat, Lissa , and a managerie of other names. But for the last nine years being with my other half he has always called me MJ.. LOL!! I went forever with only my dad calling me that and now he does. I will say the one guy that is a good friend and that I'm coauthoring a book with he calls me Mel.. that was the first time I was ever called that and it took some time to get use to and to be honest I wasn't sure I liked it but now that I'm use to it I don't mind it. LOL!! I have grown to like it.LOL!!

• United States
1 Mar 09
Oh how cute! You know, my dad never had nicks for me or my brother. My aunt always called me "beautiful" when little but she was the only one who gave me a nick. Anora

• United States
3 Mar 09
YOu know I hate to say this but my family is very odd and so I was called a lot of nicknames by my mom and step dad and gram and pap. LOL!! I remember my mom telling me that she chose my name because it meant honey bee and I was true to that I guess. LOL!!

•
1 Mar 09
My kids nicknames are straightforward, and not very exciting, lol. One is called Antony and the other Tim. Their surname is Clark, so Tim gets called Nobby, which relates to the name Clark, as there's no other nickname his mates could think up. Antony, or Tony, gets called Ant, or Atom... Atom because of Atom Ant and Ant is just a shortening of his name. See... not very exciting, but their mates called them those names and I did pick them up and start using them. Brightest Blessings, my friend.

• United States
1 Mar 09
They are still very cute nick names. :)

•
1 Mar 09
I don't know the cartoon bella sweety but I bet your daughters are anything but grim and evil - even though I can totally understand your reasoning - everyone does have a dark side and most kids have more than one dark side! lol Most of the nicknames we use for the kids mylot won't let me type in! hee hee hee Niamh does get shorty or Wee yin quite a lot cos although she is really tall for her age she obviosuly is smaller than her brother who is 15 and her brother Niall who at6'2'' has grown out of Niallybopstends to bee the Big Yin! lol xxxx

• United States
28 Feb 09

OMFG I LOVE THAT SHOW!!! My kids are more like Calvin and Hobbes..My daughter being Calvin the one with the WILD NEVERENDING imagination and my son being Hobbes the silly, sarcastic one...they could be Billy and Mandy though too..but reversed..My son would be Mandy and my daughter would be Billy LOL thats so funny

• United States
28 Feb 09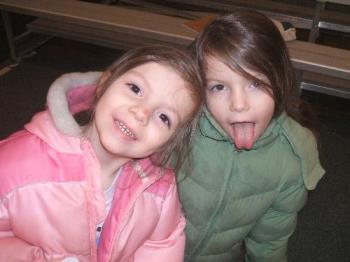 I love your descriptions of yours with the Calvin and Hobbes. LOL!!! I'll have to give you a pic of my two... LOL!!