What's the cutest thing you cat has ever done?

United States
February 28, 2009 6:46pm CST
My cat is always being super cute. The cutest is when she is lying on her back with her back feet up and her front paws covering her eyes. Does your cat do that? Also, it is adorable when she squints when I turn the light on because it's too bright for her. And she has that sleepy look. My cat is about middle aged and she is still playful too, which of course is adorable.
2 responses

• United States
1 Mar 09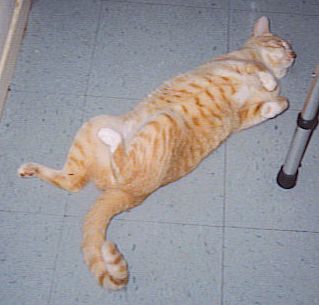 Taj will lay with his eyes buried in his front paws. Oliver will climb in our arms and then turn over on his back. Scamp gets on top of me and kneeds. Sassy will wash my face - so does Ping. Ping and Pong will try to get the other one to lick them, so does Gizmo and Oliver so you have them with their eyes shut and their heads down trying to get the other cat to wash them. Taj is known to lay on his back, but he doesn't really sleep that way, he does it to cool off.

• Philippines
1 Mar 09
i have no cats now. i used to have about 4. my mom was the one who really took care of them. the cutest thing the first cat would do (the first cat meaning the first to arrive in our family), was play with the rolled tissues. Sometimes it makes a mess but we don't bother, he's too cute to watch.