leopard cross lion makes??????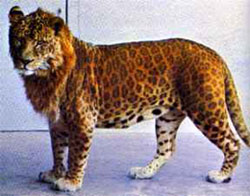 Australia
November 10, 2006 2:38am CST
A Leopon....A Leopon is the result of breeding a male leopard and a female lion. The head of the animal is similar to that of a lion while the rest of the bodies carries similarities to leopards. The most successful breeding programme was at the Koshien Hanshin Park in Nishinomiya City, Japan. Leopons are larger than leopards and likes to climb and enjoy water.
3 responses


• Janesville, Wisconsin
13 Dec 06
Those are interesting, althought it makes me nervous at times.. You never know what kind of strange animal crossbreeding maybe going on.... or planned in the future... with this. - DNatureofDTrain