Southern SnowStorm.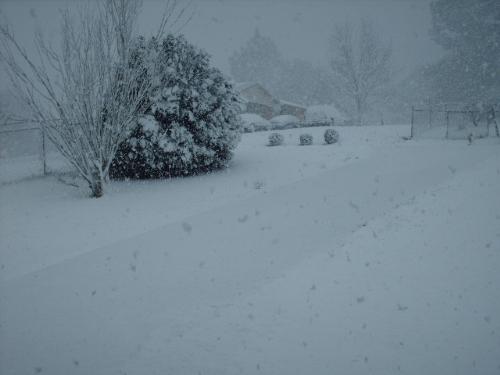 United States
March 1, 2009 12:27pm CST
IT IS HERE. I woke up this morning and it was snowing, it is a beautiful sight to see. And it snowed pretty hard for a long time so the snow did stick and we have a white community now. Here when it snows every thing stops. None of my neighbors went to church this morning. As a matter of fact no one has come out of their houses. My across the street did come to the front door that is because she had a visitor. I know this because I have been out side taking pictures. One of my grand sons called me this morning and asked if I had a mask. A mask son what for. He wanted one of those mask to cover his face he was going outside to play in the snow. I have some pictures I will add to my photos. Enjoy my pictures and the southern snowstorm.
8 responses

•
1 Mar 09
Hi Chevee, Wow!! that is so beautiful, all that snow, when we had snow everyone was out playing in it old and young making snowman and sledging, its a shame no one is out there playing in the snow. Hugs. Tamara

•
2 Mar 09
Hi Chevee, I am the same but I love watching people out there playing in the snow, I only made a small outside my door just to be in the spirit, I couldn't play out as I am not young anymore either. Hugs. Tamara

• United States
1 Mar 09
I just saw your pictures. It is snowing hard. That is good. It is exciting to see snow to people like us in the south. We had one like that in 2005 Christmas Eve and a beautiful white Christmas. That is in south Texas, history was made. Enjoy your snow, throw a snowball for me.


• United States
2 Mar 09
we had snow here but not nearly as as bad as they did futher south. i guess some people were in shock over it.

• United States
2 Mar 09
[i]Hi Chevee, we had also a snow last Saturday, it was snowing whole day and sunday and today, we have sunshine though it is still cold outside! Thanks for sharing this photo![/i]

• United States
1 Mar 09
Thanks for sharing that photo, Chevee. I bet it's really exciting when you typically don't see snow. You should at least go out and make one snowball and throw it at something. Go on, you KNOW you want to! We're getting your snow right now. It's coming right up the coast. We had a slight covering of snow last night, then all kinds of bells and whistles went off here a couple of hours ago... "Warning, Warning, Will Robinson!" Okay, it wasn't THAT bad, but we're getting all kinds of conflicting stories... 2 to 4 inches, 6 to 10 inches, and the straggler... a measley 1 inch of snow predicted to fall. Nothing stops around here unless we get at least a foot of snow. I wouldn't dare venture out if we lived higher up in the mountains, but here it's not so bad. I kinda miss the "olden" days when we'd get 1 to 3 feet of snow at a time. THOSE were the days... maybe it's global warming, or maybe I was just a lot shorter then and it SEEMED deeper than it was. All I know is that, just this morning, I was griping about our little "false Spring" we had last week and how I want the real thing, now we're being clobbered by even more snow. I'd better keep my mouth shut from now on. I'm glad you took pictures, Chevee. Thanks for sharing them with us!

• United States
1 Mar 09
Very pretty I do miss the beauty of snow!

• United States
1 Mar 09
Snowstorms are beautiful are'nt they.We were forecast to get 1 to 3 inches but didnt get anything but just a few miles south of us got 5 inches,it is amazing how that happens,it is very cold here but the sun is shining.You have a great evening.