Do you like to make som faces on the cookies?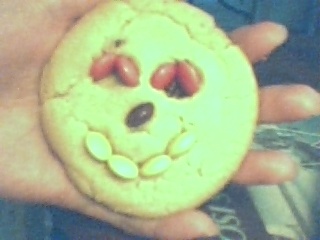 United States
March 2, 2009 3:44pm CST
I like to draw or put some chocolate chips on the top to make smiley faces sometimes instead of using the shaped thing. I put the chocolate chips on after it cools off for 2-3 mins then the chips won't melt and stay on it:-) MY husband says it makes him smile when he sees the smiley food hehe:-) I attached a photo, did it make you smile too?;-)
3 responses

• United States
2 Mar 09
Yes, it made me smile! hehe I love decorating and making faces on cookies, cupcakes, cakes, etc. It's my way of having fun and showing my creativity. I bought a book on all kinds of different ways you can decorate cupcakes and I've gotten some interesting and great ideas from it. I also like to watch a show on the food network (I don't know the name of it) where a group of people are in a contest to decorate the best cake. Some of the things they do are so amazing like cakes that move, light up, make noise.

• United States
2 Mar 09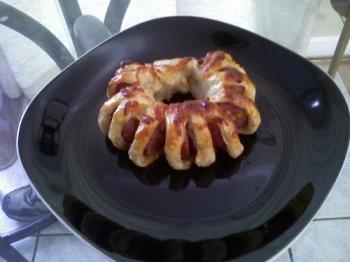 sometimes I like to make creative shape of the food too, bread is one of the easy way to make differnent shape because I can shape the dough before baking :-) Know what it is?;-) It is a flower hehehe :-p yum yum

• United States
2 Mar 09
Cool! I like that flower shaped bread. It looks yummy too.


• United States
4 Mar 09
hehe I like M& M too :-) Thanks for sharing! :-)


• United States
2 Mar 09
homemade saves you money and taste even beeter ;-) hehehehehe Thanks for sharing! :-)