Let's take a walk to Uluwatu, come.... :)

Indonesia
March 2, 2009 10:20pm CST
Uluwatu located at southern Bali island. Its about 45 minutes from The airport. Most people come to do some surfing because the most perfect wave come from the south current of the ocean. Under the high level land, we can still access the water trough little ale and cave to find the secret beach. Surfer LOVE this place. And ladies are more like it because this beach are more quite, you will not bugged by sellers which is you will find them at Kuta beach selling merchandis,manicure, paddicure, massage,..ect. Lay in the sand, get tan, Listenning to an ipod, sound like very relax, with no sound of car horn same like kuta. Me, and my best friend Nina love to collect shells here. There are some little peace of land left, frazzle by the water, builled temple by local people, asking for safety to the Gods. they make little cafe and warung, in case you got to go to toilet or thirsty. And if you want to take a swim, don't worry, the water is clean! you will see your feet at the bottom. Happy posting always, oxoxdian from Bali Indonesia.
8 responses


• Indonesia
5 Mar 09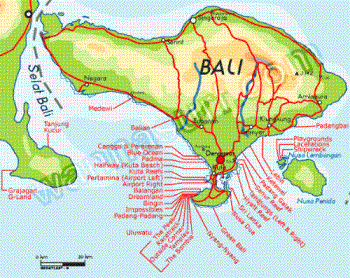 Hi siZidni, Yes it is very close. Between Uluwatu temple and Dreamland beach, there is Padang padang beach, Impossibles beach, and Bingin Beach. There are very close except the Uluwatu which face south of the island and very high.

• Indonesia
3 Mar 09
Hi diansinta, I have not been to Bali. It is sad because I am Indonesian. I don't have a spare money for travelling to Bali. I hope someday I will go there enjoying the beautiful beaches, Kuta, Snaur, or Uluwatu as you have recommmended here. I am just curious about Bali because many tourists believe that it is more famous than Indonesia.

• Indonesia
8 Mar 09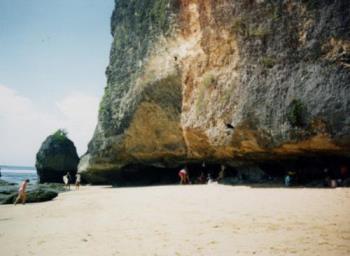 *Hug. Dear masata,.. I can visit this beach because i travel to bali looking for work, So i choose Bali because i love the beaches. I want to work and also near the beach. I hope one day you can visit this beautiful island. Thank you for dropping by at my discussion, i will visit yours in a return. See you there, Happy posting always, oxoxo'dian from bali island.

• Indonesia
3 Mar 09
I have been there diansinta, and i really love Bali, it is a beautiful places to visit. I love the nature, the culture, the life..it so great. Uluwatu i think one of the sight seeing in Bali which is beautiful, i have the photo of Uluwatu but i dont know how to put that photo in my response. I think everyone love Bali, even after the Boom..it safe now to travel to Bali..dont be affraid.

• United States
3 Mar 09
Hi diansinta, It really sounds beautiful there ! I am like you , I love walking the beach . I live next to the beach in Yucatan , Mexico . I walk the beach every morning when I first wake up. I love early mornings on the beach. The water is usually soo calm and pretty with the sun coming up. Sometimes i can see dolphins swimming further out if its really calm. I also collect sea shells , and sea glass , and anything else that catches my eye. I do crafts with my beach finds . I will think of you walking your beach , as I am walking mine , wondering what its like there .. hope we both find some nice beach treasures !

• Indonesia
3 Mar 09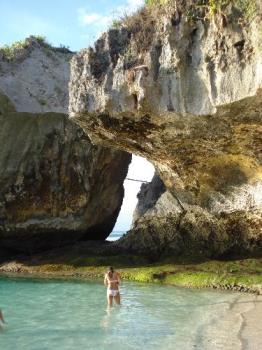 Sound relaxing at Yucatan, Mexico,.. Dolphin! i love dolphin

Rare we can saw dolphin around here, any pictures? and i know sea shell but sea glass? what is that? Here i upload one more picture for your view:) tell me more


• Indonesia
3 Mar 09
This is sound great diansinta, i wish i can have vacation and visit bali again, But as a teacher, ....i don't think i can do that more often than i hope. But it was a good dream though. When did you come to this beach? do you have any picture of it?

• Indonesia
3 Mar 09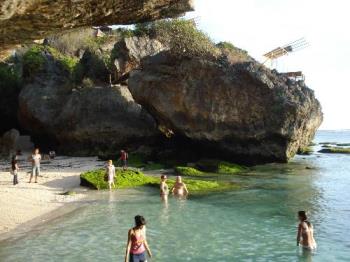 Hi Ifnalife, i forgot to upload the picture, here it is;



• Malaysia
4 Mar 09
Wow, hopefully I can go there next time! I went to Bali but not all place. I just went to Sanur, Jimbrana, Kota Bali, and Legian. I did not have enough time to go to Uluwatu and Kuta beach to see the beautiful beaches there T_T. I went to Kuta, Lombok which was beautiful! Some people said, Kuta, Lombok is more beautiful than Kuta, Bali. I do not know is it true or not. By the way, how many times you go to the beach a month? I think there are so many beaches that you can visit there. Hehe.

• Malaysia
4 Mar 09
Hi dian, thanks for introducing another beautiful tourist site, Uluwatu Beach in your place. From the two attached photos I could see how attractive the beach is. Wow! The high level land hides the beach so well! No wonder I could see not many visitors having fun at the beach. I love the natural and fascinating seascape there. The blue water and the huge rocks look so peaceful there and I hope I'm one of the visitors there. It's a great pleasure to soak in the crystal clear sea water or to have a leisure stroll along the beach in the morning or evening. I had seen surfers having fun on the sea while I visited one of the beaches there three years back. Some of them were really skillful and could manage to handle the surfing board so nicely on the surface of the waves. I believe it's really wonderful to collect seashells along the beach together with your best friend during your leisure. Very often the people who were in charge of the temple in your place usually would give the visitors a flower after their praying. There was also a temple in the cave of the rocky hill there. We had to walk in the sea water for a short distance we then could reach the temple. There were lots of visitors in the long queue to wait for their turns to wash their hands and heads as well as the upper part of the body using the holy water there. There believed doing this would bring them both health and wealth

Happy

posting and have a nice day.

• Australia
29 Jun 09
It sounds like a wonderful place. I wonder if I could conveniently loose the kids for a week or two! LOL.