My eleven month puppy is a barker!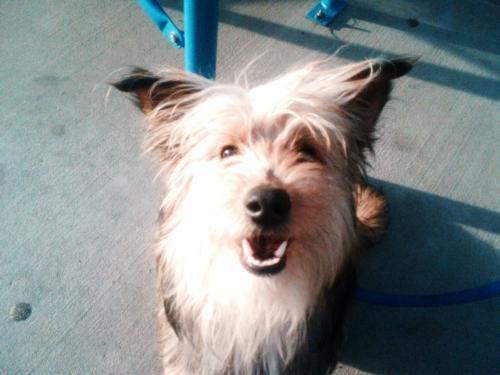 United States
March 5, 2009 1:35am CST
I am not a morning person but I am on my way to becoming one because I need to be up at 6 to let my dog out and by 7 for his morning walk, but it is an exercise in patience as the dog barks at every passing car, random person and sudden noise. I am ok to pick up after the dog as it is the right thing to do, he is housebroken and I have no complaints about it. BUT he loves to bark and bark and pull his leash, I am planning to take him to an obedience class that my city gives but what to do before April?
4 responses




• Canada
10 Mar 09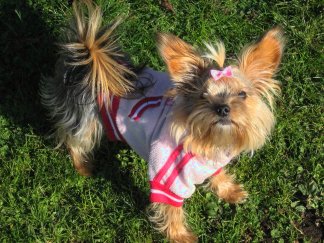 Hi ShellyB, Thank you for your discussion. I have had the same problem with my young pup doing the same thing. First of all, congratulation's on the new addition to your family. What a blessing aren't they? My dog is my Everything and I wouldn't trade her for the world, regardless of any quirks, weird or unacceptable behavior. They say that there is no such thing as a dog with bad behavior but is band handling. It is up to us, their handler's to be able to read our dogs in order to help them understand what is it that we are expecting from them. I have be faced with the barking problem for sometime now and am happy to say that my little girl is coming along tremendously. Here's the scenario. I take her for a walk during the day and she is so so, still going bananas when there is another dog though. Now, at night I can take her on the exact same walk and she goes mental. She insists on walking ahead of me (on leash) and barks the whole way. Even if nothing is in our view. I have wondered why she does this, thinking she smells something I can not or sees something that I don't. What I have done is keep her on a heel length of the leash and I tell her to heel. She already knows what this means. If she begins to pull I stop. I tell her to relax and she knows what that means as well. She doesn't like the stop but it helps. It ididn't stop her from pulling, I had to use a different technique that did work. If she looks like or begins to bark, I stop and tell her no bark. When she stops we continue. When we are walking and she begins to bark, I say quiet. She continues I keep saying leave it. She know what that means to because we practice that with her toys when I have her drop it. If she continues to bark or goes to I immediately say ah-ah. Everytime she goes to bark I do the ah-ah. If she starts going at it I will stop and say no bark. If we are walking and she starts to bark I say quiet, no bark. If she continues I will say leave it, leave it. If she continues, usually with a pull I will stop and say Roxy Relax. She will stop and we will continue to walk. I find the leave it is good. You have to practice with your dog and see what he responds best to. Walk often and take him into areas that he will bark. Continue to work with hi,/ There were times that it was very very exhausting, regardless of her small size. It was draining and not tense. I also found that my dog picks up my energy through the leash. If I am relaxed and vision a peaceful walk, it helped. I also found that singing on our walk kept her from barking, somewhat. She will still do it, especially if there is another dog and sometimes people and mostly at night if it is dark. I keep doing the leave it command if it is another dog or person. Cars, I tell her it is OK. "Roxy, It's OK" We need to communicate with our dog using as less words as possible and a different verbal comand for each action we are expecting. Using more than one command or too many words will confuse the dog. There was an awesome video I seen on YouTube that helped me stop my dog from pulling. The dog doesn't have to be right beside you and young dogs will walk a couple steps ahead of you. Always walk your dog on your left side. What I do for leash pulling is I have an extend a leash but I also have a six foot leash for this exercise. I have her reined in. I let her walk about two of my own steps ahead of me on my left side. When she is going to or is pulling, I let out the six feet, holding the handle at my waist with both hands and turn to my right immediately and stop, before she gets to the end of the six feet. She will come to the end of her leash and since I stopped she will turn around and see me facing the other way. This way she wont relate me to the physical interruption. As soon as she comes to the end of the leash and still facing the other way, I place my left hand on the leash behind me and guide her clockwise saying this way, so she rounds me and wind up back on my left side and we resume the walk. This way it puts her attention back on me and she is good to go, I give her verbal praise. We continue. . I do it each time she starts to pull and for my dog it works. This is the video I used to stop my dog from pulling on the leash: http://www.youtube.com/watch?v=zoJPUH6ULLc&feature=related There are many techniques and it is up to you to find the one that will work with your dog. You can go to three different obedience classes and you will learn three different ways of doing things. It is best to find what worked for your dog. Just because he doesn't respond the way that you expect to one technique doesn't mean that he wont learn it by using another. YouTube is a wealth of free dog training videos. Go there and search out what you want to know about. Absorb yourself in different ways people use to correct their dogs. I went there and searched: stop dog pulling on leash. There are many videos. Another video for Stop Pulling On Leash Training Technique is: http://www.youtube.com/watch?v=5Hf_idXDk44 Unfortunately I haven't found a video to help stop her barking at night. Through the techniques I have mentioned above, mostly reinforcing the OK and Leave it, she seems to be improving during our night time walks. Dog will naturally bark when they see or hear other dogs, Especially puppies. It is how they communicate. Furthermore, it is how they talk to you too. Long story short, I have come to realize that my dog is actually working at protecting me when we are out at night walking and is why she tends to want to walk ahead and bark at everything. Also, she knows where all the dogs in the neighborhood live. We can be walking nicely and quietly at night until we come upon those houses and she will bark. I think to see if she can get a rise out of those hot spots with the other dog. Dogs are social animals. I would take your dog to dog parks, on leash first and let him get aquainted with other dogs. Be sure to ask the handler if their dog is friendly before you allow him to engage in sniffing at the other dog. If you dog is not neutered, I would be somewhat reluctant until he is. Once you get a feel for your dog around other ones, start taking him to off leash parks and let him socialize with the other dogs. If you have a friend with a dog, go visit, go for walks. Or join a dog walking group and get your dog out there to be with the other dogs. He needs the socialization and I bet you will find he calms down quite a bit. Also allow people to greet your dog. Teach your dog some basic manners first. Stay, down, sit. Be nice. Your dog is quite young. I got my dog at 15 months. She is going to be two in May. She still acts like a puppy and has a ton of energy. Work with your dog everyday, take him for two, three or more walks a day and continue to use the verbal commands. Try not to tug on his leash or jerk him. Stopping is your best defense when he is acting goofy on a walk. This gets his attention back on you and is what you want. Sometimes taking a pocket full of his favorite cookies on the walk will help achieve this also. Never treat him unless he has achieved a command that you give though and treat him immediately when you do. Never feed your dog before you go for a walk, always after. For a well rounded dog, we need to exercise, discipline and reward. So walk, either go to the park and practice some basic commands or go home and practice fetch, stay, drop it etc and then feed. Also, having our dog hold for at least thirty minutes a day, shows the dog that you are the alpha and they thrive on this because they want to be lead in the pack. So break up the thirty minutes. When you are preparing his food, have him sit and stay or lay and stay as you prepare before you put his dish down. Feeding is the reward. Another way to get in some of that thirty minutes is to get him ready for a walk that I bet he gets excited about. Have him sit or lay and stay at the door for five minutes or so before you commence, perhaps as you are getting your coat and shoes on. This helps him relax which is the state you want him in before he goes on a walk. I have seen many of Cesar Milan's videos and can be picked up at your local video store. There is some controversy with his training techniques but I have never seen anything where he has hurt a dog and he gets almost instant results. Lastly, dogs have an internal clock and they keep time well. This is why it is so important to try to keep his waking, sleeping, eating and exercise routines by the clock as best as possible. We do this so to keep your dog content. This way he knows when he can look forward to meal, walk etc. This makes for a content dog that will not be experinceing anxiety because of the unknown. I am not good at this since our schedule is so screwed up but I try. I hope this helps. If there is anything you want to discuss and feel that I may be able to give insight from working with my own dog, do not hesitate to message me.

• Canada
10 Mar 09
PS: Recently I did my dogs numerology. Sounds crazy but it really helped me understand better about things I wondered about my dog. If you would like me to do your dog, send me his birth date and year along with his full name. This gives an Ah-Ha effect.

• Canada
10 Mar 09
Treat your dog as you expect to be treated. If you were being tutored one on one, learning something new, treat your dog as you would expect the teacher to treat you. Do not talk loudly to your dog, firm is ok, do not yell, hit, scold or pull on your dog. This will not get you the results that you are looking for. Just as if you were trying to understand what the teacher was saying and they just talked loudly in frustration, yelled, pulled at you, scolded you and so on, it is likely you would just want to leave the class never to return. Think about it. The dogs want to please us, nothing more. It is a matter of understanding your dog and being receptive enough to read his body language to be able to figure out the best way to teach him. It isn't that they don't want to or can't learn. It is up to the handler to figure it out and be patient, kind and persistent. If you grab at the dogs snout her may learn to be afraid of having his snout patted in kindness. Tugging on his leash, quick tugs are just plain disrespectful and rude. Dogs don't really understand words. In the wild the wolves never use the english language and their pups learn. They learn from the leader of the pack through body language. So talking in a loud voice, yelling, scolding etc isn't going to make a bit of difference. You don't want your dog to wind up disliking you. I taught my dog through verbal commands but with hand signals and she now sits, shakes a paw, stays and fetches without any words at all. Stopping pull on leash can be taught without verbal commands as well, just remember to treat him when he resumes a quiet walking position. If you don't want to use dog treats then give him a nice scratch under the chin or rub his chest between his front legs. They love that. Try to avoid patting on the head as a reward because it make a dog feel small. Best to you and your dog!

• United States
11 Mar 09
Thanks for all your wonderful advice. I think there are two things in play right now, I am wondering what am I doing wrong and two I have a daughter that tells me what she thinks I am doing wrong. My dog barks at other cars, I was told he was hit by another car and that he got broken bones because of it, so I am not sure how to react, or how to make him understand that it is safe now. He is a sweetheart inside the home, it is outside that I have hard times. I would assume that barking at other dogs is ok, but there are so many where I live. And there are time where he is barking at nothing. I also wonder why, and have wonder if it is something he sees that I can't because my vision is not so great. I hear that we must have the dog walking next to us, to say to the left and it is ok to let them ahead a little. I hope so. I am not sure how but sooner or later we both will enjoy our walks, or let me correct that, I will enjoy the walk, no matter what Brownie enjoys the walks and looks forward to them. I will look at your links of youtube and am reading still your comments. Thanks again for all your wonderful advice and concern. I do love my dog and try to walk him at every chance I have. I wish my walks were more peaceful tho.. lol they will be. (also thanks for letting me know to visualize our walks as peaceful)


• Holiday, Florida
11 Mar 09
i feel your pain. i love coco dearly but she sometimes does the same thing. the only thing thats helps sometimes is she is beginning to understand when i say "im putting you back in the house"! loudly and authoritively. she is finally begining to get the point. i also give the leash a little pull up for my point.

• Canada
11 Mar 09
Good Point! I too told her one night when she was barking right from the word go "Do you want to go back home"? She continued for a block and a half so I turned her around and took her home. She was a bit peeved because she loves to walk. I feel that by doing this it helped. Now when she starts getting out of hand, barking on our nightly walk, and I stop. sometimes when I tell her No Bark, I may use the "do you want to go home". I am positive she understands that because it helps, a bit. Communicating with our dogs in ways that they can understand is the key.

• Canada
31 Mar 09
True. Often we go to trainers with our dogs because it is us who need to learn the dog (body) language. You will overcome the barriers with Brownie. Persistence Shelly and lots of patience. He will come around. Good Luck and keep me posted.